Beihai clampdown leads to significant reduction in marine turtle trafficking
Beihai, Guangxi, China, 10th March 2015—Illegal trade in marine turtles in Beihai has fallen dramatically following a suit of measures including a concerted enforcement clampdown, finds monitoring of the city's markets by TRAFFIC.
---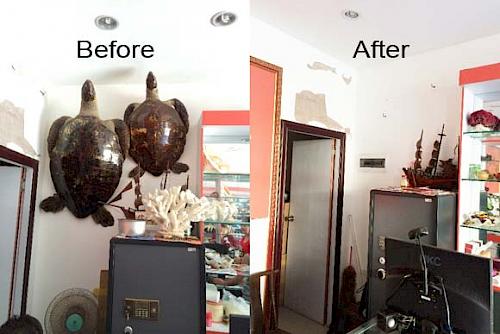 Surveys this January found just 5 Hawksbill Turtle specimens concealed in a single retail outlet in Beihai. By comparison, in May 2014 TRAFFIC had found more than 80 Hawksbill specimens and thousands of Hawksbill shell products during just two days of monitoring. 
Beihai had previously been identified by TRAFFIC as a hotspot in the illegal marine turtle trade. 
The May findings had been included with a letter sent by the Guangxi Management Authority for the Convention on International Trade in Endangered Species of Wild Fauna and Flora (CITES MA) to the Beihai municipal government, urging them to take prompt action against the trade. 
The latter responded with an intensive, multi-agency enforcement action against the marine turtle trade, involving the Industrial and Commercial Administration, Fishery Department, Forest and Security Police Forces. 
Between June and October 2014, 12 marine turtle cases were detected and 14 Hawksbill specimens and 959 Hawksbill shell products confiscated. 
The action was coupled with public awareness raising initiatives, measures to improve the co-operation between different enforcement agencies and regular inspections of retail outlets in Beihai. 
"TRAFFIC applauds the firm action taken by the authorities in Beihai, who are key to combatting the illegal marine turtle trade," said Zhou Fei, Head of TRAFFIC's China Office. 
"The trade has clearly been suppressed four months after the intensive enforcement action took place and most dealers now clearly understand the trade is illegal and forbidden, but the challenge will be to maintain this situation into the foreseeable future." said Zhou. 
TRAFFIC hopes the latest success in Beihai will be replicated in other Chinese cities, in order to help reduce marine turtle trade at a national scale. 
TRAFFIC's work in combating illegal marine turtle trade in China is generously supported by the WWF Coral Triangle Programme and CEPF.
Further information about illegal take and trade of marine turtles in the Indian Ocean region is available on WWF's website. 
---