Bear and Tiger parts seized in Russian Far East
30 August 2007—Customs and the Frontier Service in the Primorskii province of the Russian Far East have seized llegal wildlife products bound for China.
---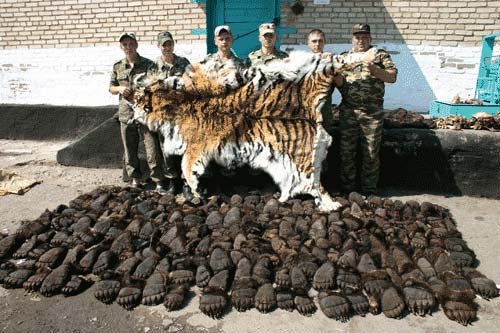 Last week, seizures included 480 brown and black bear paws, a Siberian tiger pelt and bones, and 20 kg of wild ginseng.
They include the fourth seizure of Siberian tiger parts and derivates this year.
In January, law enforcement officials seized 360 kg of bear paws, three Siberian tiger skins and bones, and 531 saiga horns. 
In February, frontier guards from the Khanka detachment confiscated 130 bear paws.
In July, Vladivostok custom officials found hidden tiger bones while checking and processing official papers of a Northern Korean national who was leaving Russia. 
Most of the seized products, except the Saiga horns, came from the Russian Far East. 
 
"This seizure gives an indication of the volume of wildlife goods being smuggled across the Far-eastern section of the Russian border," Alexey Vaisman, TRAFFIC

"The so-called 'Khanka Tear' is one of the most notorious stretches of the Sino-Russian border. Maintaining strict control in this section is essential to intercepting the illegal trade and catching those responsible for carrying it out. A simplification of the complex bureaucracy associated with CITES documentation would also help matters," said TRAFFIC's Alexey Vaisman.
Legal proceedings have been instigated against the Chinese and Russian nationals involved in smuggling the bear paws and ginseng.
UPDATE (February 2008): Key members of the smuggling ring will face trial in March 2008, after a 6 month operation in which TRAFFIC and WWF provided technical assistance to customs, police and navy officials in the Russian far east. 
---