Almost 2 tonnes of elephant ivory seized in Hong Kong
Hong Kong, 30th August 2011—Customs officers in Hong Kong yesterday reported the seizure of 794 pieces of ivory tusks weighing 1.9 tonnes, concealed inside a shipping container that arrived from Malaysia. 
---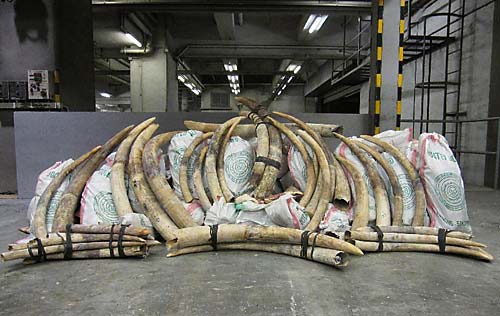 The consignment was declared as non-ferrous products for factory use, but upon examination by officers of the Ports and Maritime Command was found to contain African elephant ivory, concealed by stones. 
A 66-year-old man was arrested and follow-up investigations are in progress.
"The authorities in Hong Kong are to be congratulated on this important seizure, but it is now vital to ensure that all leads are followed to track down those responsible along the entire smuggling chain," said Tom Milliken, TRAFFIC's Elephant & Rhino Programme Co-ordinator.
"This looks like another huge consignment of ivory aimed at the Chinese market, only days after the CITES Standing Committee recommended a review of China's internal ivory trade protocol to determine whether there are possibilities for illicitly sourced ivory to leak into the legal ivory trade system."
Globally, illicit trade in ivory has been escalating since 2004 and Chinese consumption is considered to be the leading driver behind Africa's elephant poaching crisis. 
This is not the first time Hong Kong has made a large seizure of ivory arriving from Malaysia. 
In December 2009, 186 pieces of ivory were found inside a container shipped from Malaysia labeled as containing "White Wood". That shipment originated in Nigeria, but the origins of yesterday's consignment have not been disclosed. 
In 2003, Hong Kong authorities also seized 275 tusks, weighing nearly 2 tonnes, transiting from Malaysia after being illegally exported from Tanzania.
And again, last week, more than 1000 ivory tusks were seized in Zanzibar, Tanzania, apparently en route to Malaysia. 
Milliken manages the Elephant Trade Information System (ETIS), the illegal ivory trade monitoring system that TRAFFIC runs on behalf of Parties to CITES (the Convention on International Trade in Endangered Species of Wild Fauna and Flora). 
ETIS holds the details of nearly 17,000 reported ivory and other elephant product seizures that have taken place anywhere in the world since 1989.
A total of 164 ivory seizures have occurred in Hong Kong during this 23-year period, collectively representing over 17 tonnes of elephant ivory.
According to the most recent full analysis of ETIS, published in 2009: "Malaysia has progressively gained prominence in successive ETIS analyses as a transit country for African ivory." 
Malaysia's Department of Wildlife and National Parks Peninsular Malaysia (PERHILITAN) issued a statement saying it was highly concerned over last week's seizure in Zanzibar and had contacted Tanzanian authorities with regard to the case.
"This latest Hong Kong seizure further underscores Malaysia's role as an intermediary country in the illicit flow of African ivory to Asia," said Milliken. 
"It's time for Malaysia to get tough on international ivory smugglers, who are tarnishing the country's reputation."
ENDS
Hong Kong government media release
---