Almost 1,500 turtles "crammed like sardines" into suitcases
Update:  Merauke, Indonesia, 2 March 2012—confiscated Pig-nosed Turtles released back into wild

On 1 March 2012, the Natural Resources Conversation Agency (BKSDA) in Merauke released 1,967 confiscated Pig-nosed Turtles back into the wild.  The turtles were from the two seizures reported below.  

In total, 2,185 turtles had been seized, but 218 died in quarantine. The turtles were being smuggled to Jakarta and then via large-scale traders into the global market.

"The deaths in quarantine are indicative of the high mortality levels incurred in illegal wildlife trade," said Chris R. Shepherd, Deputy Regional Director of TRAFFIC Southeast Asia. "Often far fewer, if any, animals survive to be returned to the wild."
Update: Merauke, Indonesia, 9th February 2012—Airport security in Mopah Airport, Merauke, were alerted yesterday by a suspicious looking suitcase and upon opening it, found 690 juvenile Pig-nosed Turtles, packed in plastic containers, in exactly the same fashion as the 1495 seized on 25th January 2012.  

The turtles were destined for the nation's capital, Jakarta and are currently being held at the Fisheries Quarantine station.  No arrests were made, but police are investigating the case.
Jakarta, Indonesia, 26 January, 2012—Close to 1,500 live Pig-nosed Turtles were seized yesterday in Mopah Airport, Merauke, in Papua Province, Indonesia.
---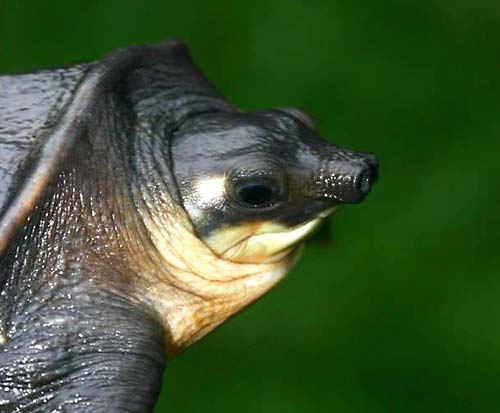 The 1,495 turtles were concealed inside two suitcases en route to Jakarta, the nation's capital and a major hub for illicit wildlife trade.
Valued as pets, and possibly consumed as meat in some countries, Pig-nosed Turtles are smuggled out of Indonesia by the thousands. 
Sources allege that shipments such as this one are common, with dealers in Jakarta buying the turtles from hunters and agents in Papua, then selling them on to dealers and retailers abroad. 
Many are destined for the pet markets of East Asia, to places such as Hong Kong, where demand for this species is rising. The turtles are often concealed in shipments of tropical aquarium fish.
There are also indications that many of the turtles are bound for the kitchen table, or to be used in traditional medicines.
Pig-nosed Turtles Carettochelys insculpta are totally protected in Indonesia, making collection for export illegal. Yet the trade large scale persists. 
Close to 3,500 Pig-nosed Turtles were seized in February 2010 in Jakarta, while in October last year, more than 600 seized in Hong Kong were returned to Indonesia for reintroduction to the wild. Most, however, once removed from their native habitat, never make it back.
"The authorities involved in intercepting this shipment are to be congratulated" said Chris R. Shepherd, Deputy Regional Director of TRAFFIC Southeast Asia. 
"However, the fact that dealers continue to smuggle shipments of this size indicates a serious problem in Indonesia, where illegal reptile trade is rife." 
Pig-nosed Turtles are listed in Appendix II of the Convention on International Trade in Endangered Species of Wild Fauna and Flora (CITES), which requires permits for all international trade and for the animals to have been obtained in accordance with national legislation. 
The Pig-nosed Turtle is threatened by habitat degradation and by illegal and unsustainable harvest for local consumption and international trade. It is listed as Vulnerable to extinction in the IUCN Red List of Threatened Species.
Jakarta—renowned illegal wildlife trade hub
Observations by TRAFFIC in December 2011 of three wildlife markets and a reptile expo in Indonesia's capital, Jakarta, found a host of protected and endangered turtles and tortoises openly for sale, plus other protected species of reptiles, mammals and birds. 
Among them were 19 Green Turtles Chelonia mydas and eight Malaysian Giant Turtles Orlitia borneensis, both listed as Endangered by IUCN and Totally Protected in Indonesia. 
A host of non-native species were also seen, including a single Ploughshare Tortoise Astrochelys yniphora and 10 Radiated Tortoises Astrochelys radiata, both Critically Endangered species endemic to Madagascar and listed in Appendix I of CITES, meaning international commercial trade in them is prohibited.
"Illegal and unsustainable trade in turtles and other reptiles in Indonesia is a serious threat to the conservation of many species. Indonesia's enforcement agencies must take firm action against traders in Indonesia flouting the law," said Shepherd.
---