A sad goodbye to Sue Mainka
With great sadness, we record the loss of TRAFFIC's long-time collaborator and friend Dr Susan Mainka.
---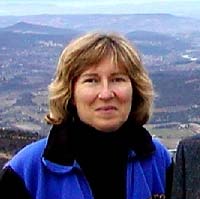 Sue passed away on Sunday 12th February after a five-month battle with cancer. Over the past fifteen years Sue made a huge contribution to the work of IUCN, in its Species Programme, Global Programme Team and most recently as Head of Science and Knowledge Management. Sue held dual Canadian and German nationality, and possessed a doctorate in Veterinary Medicine. 
Sue's long association with TRAFFIC stretched over most of the last two decades. Our first encounters were in the early days of TRAFFIC's engagement in East Asia in the early 1990s, when she worked for WWF, helping with the captive management of Giant Pandas and other animals at Wolong Reserve in China, and later as WWF's China Programme Co-ordinator. Her advice was invaluable as we first began develop working relationships with government and academia in China. 
Later, as a consultant in the late 1990s, Sue led TRAFFIC's first comprehensive reviews of national efforts to live up to promises made in CITES resolutions on rhino and tiger trade. After joining IUCN in 1997, she played a critical role in ensuring effective connections between TRAFFIC's work on wildlife trade and the wider IUCN conservation programme. Sue was appointed as a representative on TRAFFIC's governing body, where she played an active role from 2001-2005 during a period of significant growth for our network. She also became a trustee of TRAFFIC's UK charity in 2002, a role she continued until this year.
 
Sue was last week awarded the Sir Peter Scott Award for Conservation Merit, a highly prestigious commendation presented to individuals in recognition of significant and long term service to conservation through their work with IUCN's Species Survival Commission. It was an apt recognition of Sue's contributions to the conservation of wild fauna and flora, especially threatened species, and one that Sue was humbled and honoured to receive. 
Sue's bravery and determination over the past five months fighting her illness were truly inspirational. She will be remembered for her energy, kindness, wit, dedication to conservation, and the breadth and depth of her knowledge of conservation science. Sue will be sadly missed by all who were lucky enough to know her.
---