30 artwork collecting businesses pledge to "refuse illegal wildlife products"
Beijing, China, December 2015—30 leaders of artwork collecting businesses pledged to "Refuse illegal wildlife products" and support responsible "Green collecting" during the 7th China Art Handicrafts Expo held last month in Beijing. 
---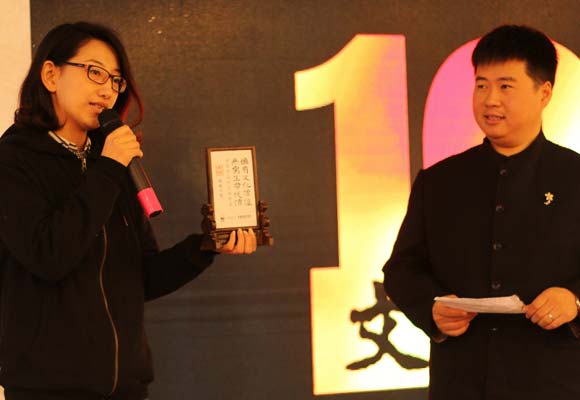 TRAFFIC has an ongoing engagement with several key artwork collecting businesses, encouraging them to promote a culture of "Green collecting" of artwork made from sustainable materials and rejecting those made from illegal wildlife products. 
During the ceremony, TRAFFIC's Demand Reduction Programme Manager, Ms Li Chenyang, outlined TRAFFIC's "Green Collection" concept and the role of art collectors to take responsibility for continuing cultural traditions without using protected wildlife products. 
"Some wild animals such as rhinos and elephants are endangered or threatened by extinction due to unsustainable exploitation for their body parts and are therefore included in China's wildlife protection laws and their international trade restricted," said Li Chenyang. "Selling collectables made of illegal wildlife products is against the law and heightens the extinction crisis."
"The art collecting sector has a responsibility to maintain the cultural values and admiration for beautiful wildlife without the consumption of illegal wildlife products and to embrace sustainable and green approaches, emphasizing the cultural value of the artwork, not the material from which it is composed." 
The 30 well-known businesses who made public pledges received a screen art to display in their retail outlets as a reminder that successful businesses take on their social responsibility, abide by the relevant legislation and don't risk their reputation. 
The public pledge made by 30 leading artwork collecting businesses to "refuse illegal wildlife products" © XuYang/WWF Through Wen Wan Tian Xia (WWTX), one of the most influential e-commerce websites in China's artwork collecting industry and a long-term partner of TRAFFIC, key opinion leaders have been encouraged to promote "zero tolerance" in the industry and promote the "green collection" concept to target consumer groups. 
"It's a new era for carving art, craftsmanship is the key value of art, the material is just a carrier," said Mr Jin Zihe, a young artist whose studio last year rejected the use of wildlife products as carving material.
"There are many options to present art, taking a risk to break the law is not necessary," he said. "If the craftsmanship itself is a treasure, no matter whether it is carved out of wood or stone, it should always be valuable!"
Mr Yu Hongyan, vice-chairman of the China Antiques & Collection Association, said: "The old phrase about materials used in traditional collections—bamboo, wood, ivory and rhino horn—reflects the significant status of animal products in Chinese collectibles history."
"However, with the changing times, more and more people are aware that elegant artwork should be sought which protects the earth's precious wildlife resources. Only then can the great crystallization of culture and arts be passed down to future generations."
The Green collecting event was supported by GIZ.
---