1.2 tonnes of bear paws sniffed out in Russia
Blagoveschensk, Russia, June 2011—A specially trained sniffer dog in the Russian city of Blagoveschensk, on the border with China, has led Customs Officers to a haul of more than 1000 Brown Bear paws in the back of an "empty" lorry. 
---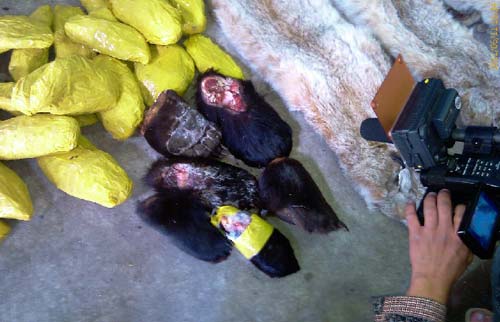 Also found with the paws were 26 moose snouts, 4 Lynx pelts and 5 Mammoth tusks. 
It is the second recent incident in the region where a major wildlife smuggling incident has been detected thanks to the Customs Service's sniffer dog programme, which is supported by WWF Russia in partnership with TRAFFIC. 
In the latest incident, the Officers' suspicions were aroused after one of the sniffer dogs began behaving oddly, and the driver of the lorry, a Chinese national, appeared nervous. The officers scanned the vehicle and found a secret compartment containing the wildlife parts. 
The haul is believed to be the largest ever in Russia of bear paws. The goods have been confiscated, and the driver taken away for questioning, He is expected to face charges under the Russian Federation's Criminal Code. 
Brown Bears and Lynx are both listed in Appendix II of CITES (the Convention on International Trade in Endangered Species of Wild Flora and Fauna), which restricts their international trade. 
The bears' paws and gall bladders would likely have been purchased from hunters for transport to China, where they are considered a delicacy and a potent medicine. 
According to Rob Parry-Jones Director of TRAFFIC Europe: "This is one of a number of incidents that underscores the value of a sniffer dog programme in helping to curb cross-border wildlife smuggling."
---