Zoos in Australasia join TRAFFIC in the fight against illegal wildlife trade
Australia, 23rd February 2015—The World Association of Zoos and Aquaria (WAZA) has passed a resolution condemning illegal wildlife trade and committing their 300+ members to ensure legal, sustainable and ethical sourcing of animals in their care.
---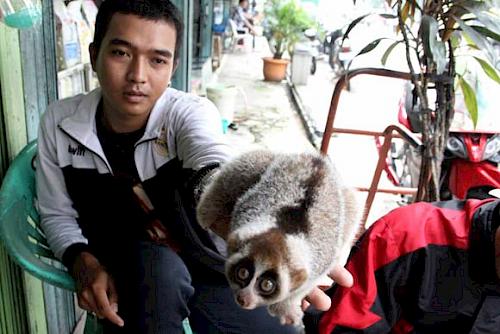 The President of the Zoo and Aquarium Association Australasia, Karen Fifield said: "Our members feel passionate about taking a strong stand against the insidious spread of illegal trade, which is devastating many wildlife populations already under pressure from human and environmental impacts. Zoos and aquaria in our region are committing to generate support from our 16.5 million visitors and ensure that we will investigate and identify any suspect activities, should outside agencies or individuals attempt to place illegally sourced animals in our zoos." 
TRAFFIC has applauded the resolution of the global zoo community to join the fight. The Director for South East Asia, Dr Chris R. Shepherd said: "The trade is worth billions of dollars annually. This organized, transnational crime is threatening the survival of countless species and so the announcement by zoos and aquaria in Australasia and across the world to take a strong, active stance is great news for wildlife. The zoos will police the legal and sustainable sourcing of animals, and they have enormous capacity to generate a movement of committed people who say 'no' to the growing trade.
"Wildlife trade ranges from the 1,215 rhinos killed last year in South Africa for their horns to the thousands of bears currently held in cages across SE Asia, tapped for their bile.  It's the millions of birds and reptiles sold as pets annually. It's the ivory jewellery for sale in the market as souvenirs and the slow lorises on offer so that tourists can take what they think are harmless selfies," said Shepherd.
Karen Fifield said "Our zoos are stepping up to get involved. If we don't, we'll see entire species like Sumatran Tigers and rhinos go extinct in our lifetime. The only way we can face up to this global scourge is to fight back as a world-wide community of committed organizations and individuals willing to take a stand. I'm tremendously proud of the resolution and commitment that our zoos and aquaria are making."
Taronga Zoo and TRAFFIC last year launched a smartphone app, Wildlife Witness, which empowers tourists and locals to identify and report suspicious wildlife trade activities in SE Asia. The free app will be promoted across all Australasian zoos this year to extend its uptake to help wildlife caught in trade.
Research conducted with visitors to Australasian zoos found that over 86% learned about the way their behaviour impacts animals and their environment, and 89% planned to make a conscious effort to help conserve the environment.
---