World's Customs linked through ENVIRONET
Cambridge, UK, 22nd June 2009—the World Customs Organization (WCO) has launched ENVIRONET, a secure internet-based tool to share information quickly and securely amongst environmental law enforcement officers worldwide to enhance environmental border protection. 

Customs officers need rapid access to information—for example, expert opinion of the identity of wildlife parts in trade, or information about the legality of exporting particular items, and now they will now able to draw on the expertise of colleagues world-wide.
---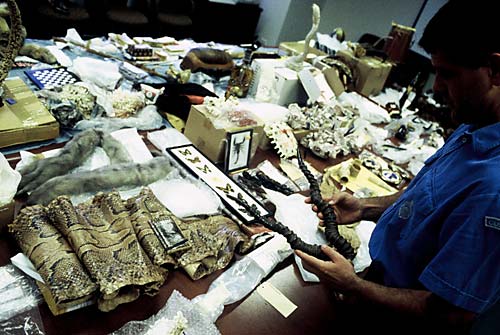 "Fighting environment crime is now a top priority for Customs authorities around the world as the international community becomes increasingly concerned about the way in which the planet is being degraded through insensitive and often criminal behaviour," said Kunio Mikuriya, WCO Secretary General. 
"Regular exchange of information is essential for any successful border enforcement and maximum benefit can be obtained by exchanging real-time information in a simple and easy way." 
Environmental crime is increasing globally, with enforcement officers playing a central role in controlling international trade in environmentally sensitive goods and eradicating illegal trafficking. To assist officers in these tasks, the new, simple way of sharing information quickly and easily was developed. 
The new communication tool will focus on trade in goods falling under several international agreements, including those covering trade in hazardous chemicals, living modified organisms, chemical weapons, as well as wildlife products falling within the Convention on International Trade in Endangered Species of Wild Fauna and Flora (CITES). 
Information can also be exchanged on nuclear materials and illegal, unregulated and unreported (IUU) fishing. 
ENVIRONET complements the existing EU-TWIX, a TRAFFIC-run system, which includes a mailing list that links enforcement authorities dealing with wildlife trade in the European Union (EU). EU-TWIX is highly specialized, dealing only with wildlife crime issues and with a built-in database allowing analysis of wildlife seizures, whereas ENVIRONET is more general, dealing with seven types of environmental offences.
ENVIRONET will be provided and maintained by the WCO to members of a select closed user group comprising Customs, law enforcement officers, and members of similar, recognized national authorities, free of charge.
---