Wildlife protection highlighted in Viet Nam
Viet Nam, November 2015—Wildlife protection was one of the primary topics at a recent Central Propaganda Conference, led in Hanoi and Ho Chi Minh City by the Central Committee for Propaganda Education (CCPE) of the Vietnamese government. 
---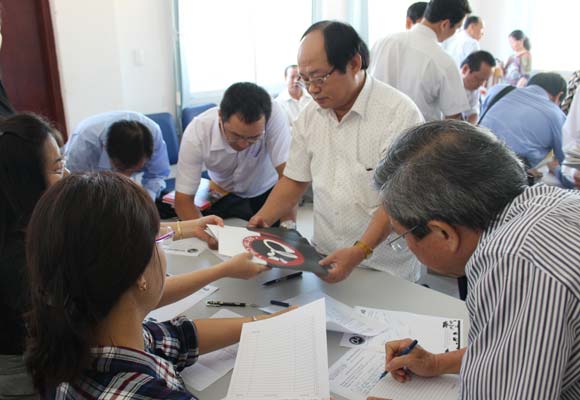 The Conferences, held monthly to guide provincial and State communications, instructed over 650 government propagandists from across the country on how to steer awareness raising and behaviour change efforts relating to wildlife protection. 
The Conferences, chaired by Vice Chairmen of CCPE Mr. Mai Van Ninh and Mr. Bui The Duc, emphasized the importance of biodiversity and wildlife in Viet Nam's sustainable development, and outlined the current shortcomings of biodiversity and wildlife protection in Viet Nam, as well as appropriate solutions. 
The content on wildlife for the Conferences was created with guidance from TRAFFIC, following the recent Memorandum of Understanding (MoU) between TRAFFIC and CCPE to reduce demand for illegally traded wildlife products in Viet Nam through training and awareness raising activities for government officers, business people, and the public. 
The CCPE is responsible for directing all communications activities to implement the resolutions of the Communist Party of Viet Nam. This month's Conferences reflect Government Resolution No 24-NQ/TW, dated 03/6/2013 of the Central Standing Committee session XI, on "active adaptation to climate change, improvement of resource management and environmental protection." 
"By encouraging and clarifying the country's discussion on endangered wildlife and biodiversity preservation, CCPE is defining Viet Nam's role in wildlife protection. Partnering with CCPE, the 'voice' of the Communist Party, will ensure that the message reaches all levels of society. Viet Nam can change its current status to become a leader in wildlife protection, through adopting a zero tolerance to endangered wildlife consumption," said Madelon Willemsen, Head of Office for TRAFFIC in Viet Nam. 
Under the MoU, TRAFFIC and CCPE are also co-operating in disseminating endangered wildlife demand reduction messages at Noi Bai International Airport in Hanoi. CCPE will liaise with the Ministry of Transport to encourage passengers to renounce the consumption of products from endangered wildlife through messages presented in exhibition centres, billboards, and posters. 
The initiatives in this joint campaign are aligned with TRAFFIC's on-going rhino horn demand reduction campaign. The Chi Campaign, based on the Vietnamese concept of "Chi," the power that lies within, promotes the idea that success, respect and good fortune flow from an individual's internal strength of will, not from a piece of horn.
---