WCO assesses impact of Project GAPIN
Lusaka, Zambia, 13th December 2012—Twenty Members of the World Customs Organization (WCO) met last week in Lusaka to review progress in implementing Project GAPIN, an initiative funded by the Swedish Government that aims to help Customs administrations in many parts of Africa fight against the illicit trafficking in wildlife protected by the Convention on International Trade in Endangered Species of Wild Fauna and Flora (CITES).
---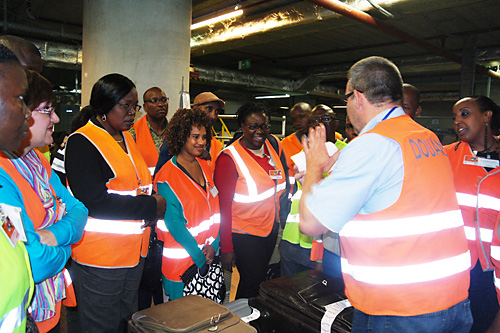 The 20 WCO Members comprised representatives from Customs administrations in Burkina Faso, Cameroon, Central African Republic, Democratic Republic of Congo, Egypt, Ethiopia, Gabon, Guinea, Kenya, Mali, Mozambique, Namibia, Nigeria, Rwanda, South Africa, Tanzania, Uganda, Zambia and Zimbabwe, as well as the United Kingdom which shared its expertise with participating GAPIN members.
In October this year the WCO organized Operation HOPE which spanned three continents and led to over 70 major seizures. The Operation targeted air and maritime consignments, as well as passengers, and took place with the support of the CITES Secretariat, INTERPOL, the Lusaka Agreement Task Force and, in some countries, national CITES management authorities, wildlife enforcement agencies and the police. 
Many of the Customs officers taking part in the Operation received specific training on wildlife trafficking enforcement through workshops held under the GAPIN umbrella in Belgium, South Africa, Switzerland and Uganda. TRAFFIC was among the organizations providing expert training for Customs officers during the workshops.
In Europe, TRAFFIC presented an analysis of trafficking between Africa and the EU, based on data from EU-TWIX, the TRAFFIC-managed internet-based tool to facilitate information exchange and co-operation between law enforcement officials across the EU. Reasons behind the current escalation in rhino and elephant poaching were also explained in detail by TRAFFIC experts, as was the trafficking of abalone between South Africa and East Asia. The vital need for Customs data to track international wildlife trade was another area that was discussed. 
"Worldwide, Customs administrations are at the forefront of efforts to combat cross-border trafficking in wildlife, supported by the expertise of the WCO and other relevant organizations, and in the case of Project GAPIN, funds from Sweden," said WCO Secretary General, Kunio Mikuriya. "As the guardians of international borders, Customs officers are best-located to detect and deter criminals involved in the global smuggling of endangered wildlife," he added. 
Steven Broad, TRAFFIC's Executive Director said, "TRAFFIC recognizes that Customs officers are a key line of defence for those charged with tackling wildlife trafficking. The GAPIN project has proved its worth in ensuring that efforts by Customs to address this trade are co-ordinated across the world's continents and underpinned by a partnership involving all key stakeholders committed to fighting against illegal trafficking in wildlife."
---