Viet Nam's businesswomen community meet in celebration of National Women's Day
Ha Noi, Viet Nam, 20th October 2014—On the occasion of the 4th Anniversary of Viet Nam Women's Day on 20th October and the 84th Anniversary of Viet Nam's Women's Union, the Viet Nam Association for Women Entrepreneurs held its inaugural Congress at the Center for Women and Development (CWD) in Thuy Khue Street, Hanoi last week. 
---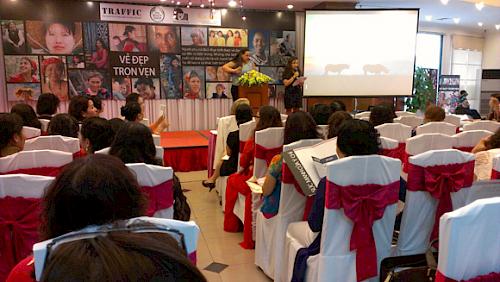 The event, which took place from 17th to 20th October was co-hosted by Viet Nam's Women's Union (VWU), CWD and TRAFFIC and brought together more than 500 businesswomen from every province in Viet Nam.
The Congress provides an opportunity to acknowledge the increasingly important contribution of businesswomen to Viet Nam's economic development, as well as their leadership in addressing social and environmental issues, including on going efforts to address demand for illegal wildlife products like rhino horn. 
The event was supported by funds from The Body Shop who have recently launched a new campaign encouraging women to "Be More Than Beautiful".
Women are increasingly taking a leading role in the business world and Viet Nam is no exception, with women business leaders becoming more influential, providing a new and exciting opportunity to lead the way in environmentally and socially responsible business practices. 
Compared to their South-East Asian counterparts, Vietnamese women hold the second-highest percentage of board seats in companies, and in Viet Nam women are outperforming their male counterparts in terms of stock gains according to a 2014 benchmark index compiled by Bloomberg and Intelligent Financial Research & Consulting. 
During the Congress, delegates has the opportunity to share their experience in business development, alongside their valuable insights into sustainable and socially responsible business practices. The event also provides an important opportunity for the group to network with their peers. 
Speakers included businesswomen from successful and socially responsible businesses and representatives from social and environmental non-profit organizations, including TRAFFIC.
"This event is particularly important in providing opportunities for the business community to learn about opportunities to take a leading role in wildlife protection, especially in regards to the illegal trafficking of rhinos and other endangered species," said Dr Naomi Doak, Co-ordinator of TRAFFIC's Greater Mekong Programme. 
"Businesswomen potentially have a very significant influence on the business community and wider society, and this event aims to help delegates realize that potential," Doak added.
A current Body Shop campaign urges women to "Be More Than Beautiful" and highlights the message that true beauty comes from within and that inspirational leaders use their inner strength and will to make a positive difference in the world.
Thanks to support from the Body Shop's Foundation, TRAFFIC has been encouraging business leaders in Viet Nam to incorporate wildlife protection into their Corporate Social Responsibility as part of their ongoing efforts to reduce the demand for rhino horn. 
---