Chinese online retailers say "No" to illegal wildlife products
Hangzhou, China, 20th October 2014—Nine of the leading online retail sites in China, including Alibaba, Tencent, Sina, Airmedia, SMG and arton.net agreed earlier this month not to provide opportunities for promotion or trade of illegal wildlife products on their platforms.
---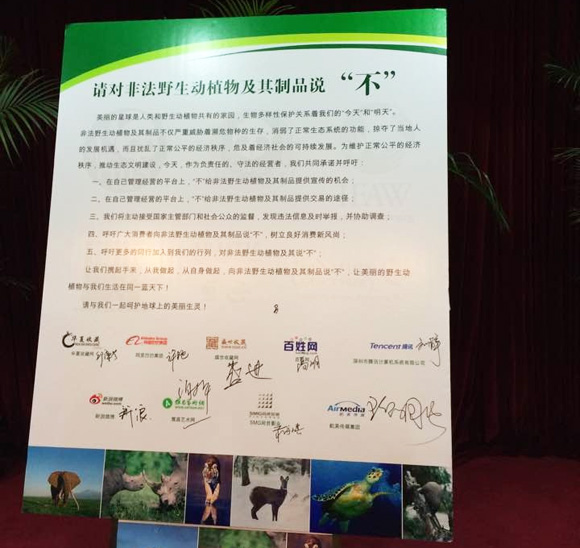 The internet giants also called on more enterprises to join them, and appealed to the public to boycott the buying of illegal wildlife products.
The statements were made following a seminar held in Hangzhou City, where TRAFFIC presented results of its investigations into online trade in illegal wildlife products, including the increasing use of social media. The convenience and anonymity on the internet is used by some criminals to traffic wildlife products, fuelling the demand that leads to poaching in source countries. 
According to a representative from China's Management Authority for CITES (the Convention in International Trade in Endangered Species of Wild Fauna and Flora), trade in illegal wildlife products not only seriously threatens the survival of endangered species, it also damages the functioning of the ecosystem and has become a major threat to wildlife, causing widespread concern to governments and international organizations. 
The online retailers will work with government departments and non-governmental organizations to help ensure any suspicious or illegal activity involving wildlife products is removed from their websites and follow up action taken against those placing the advertisements. 
Zhou Fei, Head of TRAFFIC in China said: "TRAFFIC looks forward to being part of this initiative that aims to have a significant role in the global fight against illicit trade." 
"Alongside the development of legitimate e-commerce has been the growth of online illegal trade in endangered species that is a serious problem, which needs to be addressed by governments, civil society and the private sector. 
"Today's initiative from Alibaba and similar enterprises will ensure action with enforcement authorities will be taken to crackdown on illegal online activities, which will help in the international efforts to regulate trade in endangered species under CITES.
Ms Xu Yan, Senior Manager for Internet Security at Alibaba said. "As a responsible enterprise, Alibaba must strictly abide by national laws and regulations to remove all illegal wildlife information from our platform. 
"To protect our planet, Alibaba is willing to co-operate with TRAFFIC and law enforcement authorities to fight against illegal wildlife and its products on the internet." 
The seminar was jointly held by CWCA, TRAFFIC, WCS, IFAW and TNC. Units from CITES enforcement team, relevant ministries and commissions, and more than 60 representatives from nine companies, including Alibaba and Tencent discussed the development on trade in illegal for wildlife and its products, and investigated efficient ways to eradicate it. 
Following the seminar, company representatives signed a declaration pledging their commitment to combating illicit wildlife trade. 
---