Viet Nam looks to Lao PDR for further collaboration on illegal wildlife trade control
Ha Noi, Viet Nam, 23rd May 2011—From 23rd to 27th May, the Viet Nam Administration of Forestry and other relevant authorities are hosting two workshops with government counterparts from Lao PDR to build on recent bilateral efforts to monitor the illegal cross-border trade of wildlife.
---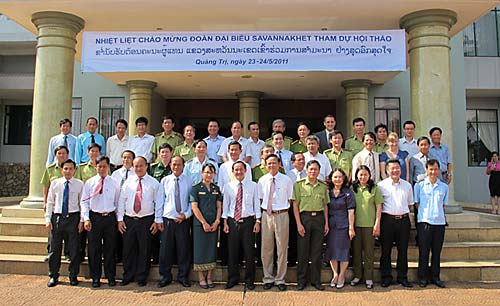 The workshops will bring together enforcement authorities from Savannakhet and Khammouane Provinces in Lao PDR and bordering Quang Tri and Quang Binh Provinces in Viet Nam. The organization of these workshops is one of the priorities under the Collaboration Plan on protecting forests, monitoring and halting illegal timber and wildlife trade and smuggling in the period 2009–2012 signed by the Viet Nam Administration of Forestry and Lao Department of Forestry in 2009.
The aim is to develop a plan for improved collaboration and information exchange to halt illegal hunting and trafficking of wildlife along the border in those provinces. 
Last month the Viet Nam Administration of Forestry co-ordinated with the People's Committee of Tay Ninh Province to hold a similar meeting with Cambodian authorities, which established and strengthened bilateral commitments to conserve nature and halt illegal trade between the two countries at the provincial level. 
"These workshops offer a timely and important platform for collaboration with Lao on the issue of illegal wildlife trade," said Dr. Ha Cong Tuan, Deputy Director of the Viet Nam Administration of Forestry. 
"We look forward to continued co-operation with counterparts in Lao, Cambodia and other countries in the region and the world to improve the effectiveness of CITES implementation and the control of wildlife trade." 
The meetings will take place in Quang Tri and Quang Binh provinces in North Central Viet Nam. The international border gates in this area play an important role in the trade between Lao PDR and Viet Nam, and are also considered hot spots of illegal wildlife trafficking across the border. 
Mr. Sulma Warne, TRAFFIC's Greater Mekong Programme Co-ordinator said the workshops were, "a demonstration of serious effort by the Vietnamese government to halt the regional illegal wildlife trade." 
"Viet Nam is clearly emerging as a leader in the Greater Mekong region in the hosting of bilateral talks on wildlife trade and is very much in keeping with commitments made under the ASEAN Wildlife Enforcement Network (WEN)," he added.
---
Notes:
•    The workshops are being hosted by the Viet Nam Administration of Forestry under the Ministry of Agriculture and Rural Development, with technical support from TRAFFIC, the wildlife trade monitoring network, and the Wildlife Conservation Society. It is part of the "Tiger Futures: Mainstreaming Conservation in Large Landscapes" project funded by the World Bank's GEF programme. The first workshop will be 23-24 May in Dong Ha town and the second will be 26-27 May in Dong Hoi city.
---