Efforts For Long-Term Action To Secure Legal Tropical Wood Trade Strengthened In China
The Chinese Academy of Customs Administration and TRAFFIC have officially agreed to combine efforts to strengthen the supervision of China's timber trade ports, crack down on timber smuggling and promote global sustainable forest management.
---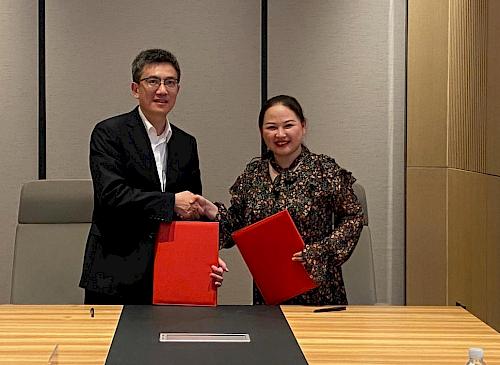 A Memorandum of Understanding (MoU) was signed during the 2023 Customs Control Technology Development Forum in Qinhuangdao City, outlining a long-term capacity building platform for law enforcement and enhanced monitoring of tropical wood trade.
Working directly under the General Administration of China Customs, the Chinese Academy of Customs Administration is well-placed to advance specialised educational initiatives for customs officials. They also host the platform for customs theoretical research, scientific and technological innovation, and a prime window for international training cooperation.
This memorandum defines the collaborative intentions of the Chinese Academy of Customs Administration and TRAFFIC, including three major cooperation components:
Evaluate and improve the existing World Customs Organisation (WCO) Guidelines to verify timber legality in trade (Chinese Version), developed jointly by WCO and TRAFFIC. Combined with the recent changes in relevant forestry policies, international trade laws and regulations of China and major timber exporting countries, develop customised courseware and build an online teaching platform specific to different training groups and purposes.
Building on 'The Belt and Road Initiative' and the Forum for China-Africa Cooperation (FOCAC), seek training opportunities and personnel exchange visits for timber range countries, especially customs and other law enforcement of African countries. Alongside this, introduce the customs' advanced systems and technologies in the import and export management of wood and other wildlife products in source and destination countries. 
Through capacity building activities such as online multimedia, in-person training, and technical support, organise front-line customs supervision officials and anti-smuggling officers in every significant timber import customs checkpoint to learn the identification of timber species, the origin of products, traceability system, import and export laws and regulations, and carry out on-site practical teaching.
The President of the Chinese Academy of Customs Administration, Prof. CHEN Hui, participated in the signing ceremony and highlighted its significance for China Customs' international participation in timber law enforcement. He also said, "Cooperation with TRAFFIC can provide timber and wildlife trade knowledge to China Customs officials and extend to a wider target audience through the platform of CACA."
Xu Ling, the Director of TRAFFIC China, signed the MoU on behalf of the organisation. "Chinese Academy of Customs Administration's advanced technology and research background provide a solid foundation for technical cooperation, so those working on the front line can fully utilise Wood ID, TimberStats, and other TRAFFIC tools and technologies to ensure only legal timber crosses China's border," said Xu Ling.
---
Notes:
The MoU was signed by The Chinese Academy of Customs Administration and TRAFFIC under the Leveraging Legality along China's timber supply to reduce deforestation project, which is generously funded by NICFI (Norway's International Climate and Forest Initiative) via NORAD (The Norwegian Agency for Development Cooperation) Project.
The MOU signing, together with the Forum, was originally planned for 2022, but postponed due to COVID-19. The Forum also determined that the first training workshop will take place in Qinhuangdao in late August with the participation of all customs areas of China.
---
About Norway's International Climate and Forest Initiative (NICFI):
NICFI supports efforts to reduce greenhouse gas emissions resulting from deforestation and forest degradation in developing countries through efforts to improve forest and land management in tropical forest countries and reduce the pressure on tropical forests from global markets.