United Nations event and Clinton Global Initiative target illegal wildlife trade
New York, USA, 26th September 2013—The President of Gabon, Ali Bongo Ondimba, and German Minister of Foreign Affairs, Guido Westerwelle, will today raise the issue of wildlife trafficking at a side event during the United Nations general assembly, currently underway in New York. 
---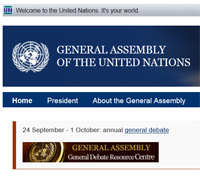 The event will feature an introduction from UN Deputy Secretary General Jan Eliasson and speeches from John Scanlon, the Secretary General of CITES (Convention on International Trade in Endangered Species of Wild Fauna and Flora), and Jim Leape, Director General of WWF, as well as interventions from Heads of State and Ministers from a number of key countries. 
TRAFFIC hopes the event could eventually pave the way towards a UN General Assembly resolution on illegal wildlife trade and other high-level political measures in the future. 
Earlier the same day, the Clinton Global Initiative (CGI) will announce the creation of the "Partnership to Save Africa's Elephants", a coalition of non-governmental organizations brought together to support government efforts to stop the illegal killing of Africa's elephants for their ivory.
The CGI is an initiative of the Bill, Hillary & Chelsea Clinton Foundation to convene global leaders to create and implement innovative solutions to the world's most pressing challenges. 
TRAFFIC is a partner in this collaborative effort and contributed to the drafting of the Partnership's commitment document, which will adopt a "three-pronged" approach by dedicating funds, expertise, and collaborative efforts to "stop the killing," "stop the trafficking", and "stop the demand." The partnership includes more than a dozen other non-governmental organizations, including WWF-US, who is among the commitment makers to the new Partnership. 
The partnership will work with African leaders to support their governments' efforts to curb elephant poaching and ivory trafficking and will also work to reduce the demand for ivory internationally by building on current awareness campaigns and promoting behavioural change. It will also include a call for the financial resources necessary to support such action. 
TRAFFIC's inclusion in the CGI is in recognition of the organization's decades of expertise in dealing with illegal wildlife trade. 
Both the UN side event and CGI are indicative of the high level political will and interest in tackling organized transnational wildlife crime, which is putting threatened animals such as Tigers, rhinos and elephants at risk, and whose perpetrators have been linked to insurgency and even terrorist organizations. 
Steven Broad, Executive Director of TRAFFIC said: "As global specialists in understanding the dynamics of wildlife trafficking, TRAFFIC is in a unique position to provide insights into this illicit trade, which is robbing the world of its natural resources, and helping fund the activities of criminal groups threatening to destabilise and undermine national security."
"We are proud to partner with the CGI to add TRAFFIC's expertise in supporting governments to identify and dismantle illicit wildlife crime chains, from source to destination," added Crawford Allan, Senior Director of TRAFFIC based in Washington DC. 
"Understanding the motivations of why consumers buy illegal wildlife goods and how to change their behaviour is also an area where TRAFFIC brings 20 years of experience and leadership."
"With adequate resources and the right collaborators like the UN and CGI, innovative strategies can generate the strong actions needed to reduce the demand for illegal wildlife products and to deliver lasting solutions to the current conservation crisis." 
Since 1989, TRAFFIC has compiled data on worldwide ivory seizures through the Elephant Trade Information System (ETIS), the latest analysis of which identified eight countries implicated as having significant involvement in the global illegal ivory trade. These countries have agreed, through a process led under CITES, to develop action plans to address the illegal flow of ivory along the trade chain. Analysis of ETIS data will be a key metric used by CGI partners to measures progress in countering the illicit ivory trade. 
TRAFFIC has also been at the forefront of tracking the illegal trade in Tigers, documenting the seizure across Asia of parts equivalent to 1,425 Tigers between 2000 and 2012. Analysis has enabled TRAFFIC to pinpoint five "Tiger trade hotspots" where enforcement action must be targeted urgently. 
In 2007, TRAFFIC first drew world governments' attention to the number of rhino horns entering illegal trade globally, and later identified Viet Nam as the key destination. In South Africa alone, more than 668 rhinos were illegally killed for their horns in 2012 to meet this new demand, while the figure for 2013 currently stands at 688 and looks likely to exceed 1,000 animals this year.
---