Drum rolls signal new push against illegal wildlife trade across China
Beijing, China, 27th September 2013—Publicity for China's annual National Wild Animal Protection Month started in Beijing with an "Eco China, Wild Beauty" awareness campaign jointly organized by the China Wildlife Conservation Association (CWCA), TRAFFIC and WWF.
---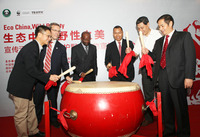 This year the annual National Wild Animal Protection Month campaign is primarily focusing on illegal wildlife trade and reducing demand for illegal wildlife products. 
The opening ceremony ended with a sand art show accompanied by the beating of a large drum by officials at the event. Many similar publicity activities will be carried out by the provincial branches of CWCA across the country during the coming weeks, carried along by the sound of the beating drum. 
The event attracted many agencies and organizations whose work is connected to wildlife conservation, including the Department of Wildlife Conservation and Nature Reserve Management, National Forest Police Bureau under the State Forestry Administration (SFA), the Endangered Species Import and Export Management Office (CITES MA), Anti-smuggling Bureau of China's General Administration of Customs, Forest Police Bureau of Beijing, as well as businesses and non-governmental organizations (NGOs).
Speaking at the launch, His Excellency, Mr Jean-Robert Goulongana, the Ambassador for Gabon in China said: "The co-operation between source countries and end consumption countries can be one of the keys to solve illegal wildlife trade issues.
"We look forward to working together with China through different approaches such as FOCAC (Forum of China-Africa Cooperation) in many aspects in the future, for example, judicial cooperation, information sharing and building capacity of field research and investigation. We also need to strengthen working relationships with international NGOs, like WWF, TRAFFIC and WCS."
Also speaking at the event was Mr Jia Jiansheng, Deputy Director-General of the Department of Wildlife Conservation and Nature Reserve Management of SFA, who said: "Conserving wildlife is a governmental duty; yet it also needs participation from the whole of society. 
"We will positively strengthen communication and co-operation with the international community, civil society, and all social sectors, and vigorously push forward education and publicity efforts to raise awareness of conservation across the entire society. 
"We will encourage the public to boycott illegal wildlife trade and help them actively participate and assist law enforcement for wildlife conservation. We hope to create an upbeat situation where government-led actions are accompanied by multi-sector participation to generate synergy." 
Dr Shi Jianbin, Director of TRAFFIC's Programme in China added: "People's demand for and consumption of illicit wildlife products are the final link in the illegal wildlife trade chain, and are the major driving forces behind poaching and illegal trade of endangered species. Therefore, reducing demand for these products plays a vital role in cracking down on illegal trade and poaching. 
"If we want to achieve demand reduction, all stakeholders and the public are expected to contribute their best efforts and participate in the process." 
WWF and TRAFFIC undertook a global illegal wildlife trade campaign in 2012 that urged governments worldwide to improve domestic legislation, strengthen international co-operation on law enforcement, and motivate the general public to reject illegal wildlife products.
---