TRAFFIC helps board up major wildlife market
Bangkok, Thailand, 11th December 2009—a large billboard strategically placed along a main thoroughfare at Bangkok's Chatuchak market is warning buyers not to buy illegal wildlife. 
---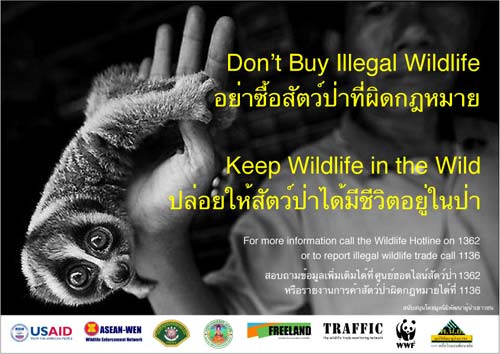 TRAFFIC, WWF and key partners in the region helped design the billboard which is on prominent display at one of Southeast Asia's largest and best known wildlife markets. 
But with a wide variety of native and exotic plants and animals on offer, uninformed consumers often buy species that have been illegally taken from the wild. 
"We hope that consumers will stop, take note, and think twice about purchasing illegal wildlife," said Chris Shepherd, TRAFFIC's Acting Regional Director for Southeast Asia.
"At the very least, consumers should be contacting the Wildlife Hotline if they are in doubt." 
Some retailers have openly acknowledged to TRAFFIC staff that many of the species they sell have been illegally obtained and even offer advice on how to smuggle them out of the country, in contravention of national laws and the Convention on International Trade in Endangered Species of Wild Fauna and Flora (CITES). 
The TRAFFIC and WWF initiative is the first of a range of activities that will target consumers at Chatuchak, aiming to end the illegal trade in wildlife in the market.
"The aim is to keep protected and endangered wildlife in the wild, and to avoid the empty forest syndrome which is becoming more and more prevalent in Southeast Asia," said Dr William Schaedla, Thailand Country Director of WWF. 
The space for the billboard was made available by the Youth Leadership Development Foundation (YLDF) of Thailand for a 6 month period. 
The YLDF recently partnered with TRAFFIC and the United Nations Environment Programme (UNEP) to educate young leaders of tomorrow about key environmental issues facing the world today.
---