Call for tougher wildlife law gets the support of 56,000
Petaling Jaya, Malaysia, 16th December 2009—The Malaysian Nature Society, TRAFFIC Southeast Asia and WWF-Malaysia, urgently call for the tabling and adoption of amendments to the Protection of Wild Life Act 1972 (Act 76) at the next session of Parliament.
---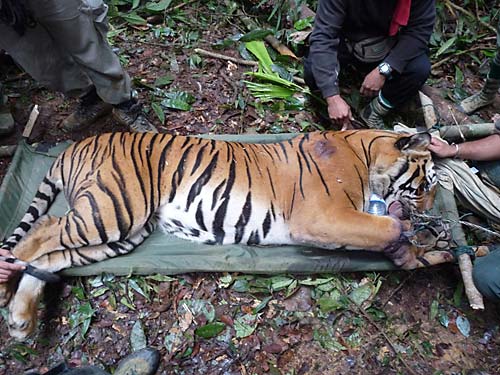 The campaign, which was carried out over one and a half years, calling for a stronger and more comprehensive wildlife law, has received the support of 56,062 people from 161 countries.
However, the legislation that is meant to defend wildlife against domestic threats like poaching fails to be a deterrent and continues to allow wildlife criminals to escape justice. 
The government has addressed part of the problem with the International Trade in Endangered Species Act 2008 that will come into force in a week's time.  
"This new law, which governs the import and export of wildlife, is timely. However, Malaysia also needs a strong legislation to combat wildlife crime that occurs inside the country," says Dr Loh Chi Leong, Executive Director of MNS. 
"Therefore, amending the Protection of Wild Life Act 1972 (Act 76) must be made a priority if our wildlife is to stand a chance," he adds.
Malaysia is one of the few countries that stand a good chance of saving her wildlife. However, this requires the support of laws that are tough enough to take on the highly organized and well-connected criminals who are wiping out many wildlife species.
"Only with powerful tools such as strong legislation will authorities be able to combat wildlife crimes effectively," says Chris R. Shepherd, Acting Director of TRAFFIC Southeast Asia.  
MNS, TRAFFIC Southeast Asia and WWF-Malaysia acknowledge the efforts by the Ministry of Natural Resources and Environment to improve and strengthen wildlife laws during this period. 
 
The three organizations are urging the government not to delay the tabling of the law any further and hope all parties will give it the support it sorely needs.
"The Year of the tiger is approaching and the eyes of the world will soon be upon us. Tabling amendments to the PWA 1972 in Parliament as soon as possible will send a strong signal to the public that Malaysia is committed to improving protection of tigers and their prey," says Dato' Dr Dionysius Sharma, CEO of WWF-Malaysia.
---