TRAFFIC and Wen Wan Tian Xia call for green collecting
Beijing, China, 16th January 2015—TRAFFIC and Wen Wan Tian Xia, a well-known e-commerce retailer of antiques and other collectable items, last month held a "Green and Elegant Collecting" event, with support from Beijing Art Radio Station, where 21 influential buyers and sellers took part and pledged to "reduce the consumption of threatened wildlife products by leading the trend towards green collecting." 
---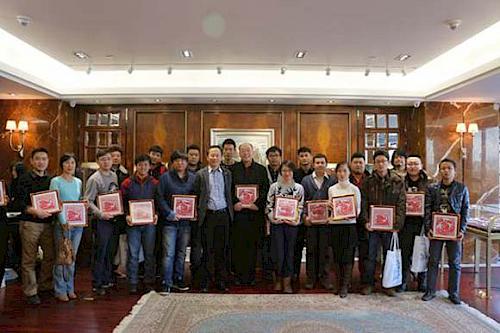 Ms Sun Yi, Executive Director of the regular "Art collecting" show on Beijing Art Radio Station presided. 
Mr Yu Hongyan, the Vice-Chairman of the China Antiques & Collection Association and a renowned collector himself, spoke about the historical and future trends in the collectables world. The nature of sought after collectables has changed in recent years, in line with the growing public awareness of the need for protection of endangered species. He recalled an old adage "Bamboo, Wood, Tusk, Horn", the order in which items are most sought-after by traditional collectors in Chinese society. 
"In an ever-changing world, collectors who admire elegant and exquisite artworks must make modest sacrifices in order to protect certain precious resources. It is the only way that the rich collecting culture in China can be passed on to future generations in a sustainable way," said Mr Yu. 
Mr Zhou Fei, Head of TRAFFIC's China Office spoke about his firsthand experience of seeing threatened wildlife, including elephants and rhinos, during a safari in Kenya the previous year. He explained how the current poaching crisis was caused by the rising demand and consumption of wildlife products, which had attracted organized criminal gangs, lured into trafficking by the large sums of money allegedly on offer. 
"China has a long history of collecting wildlife products, hence key to saving threatened species is the need to change consumer behaviour to reduce demand for products from those species at risk," said Zhou Fei. 
Mr Chi Rui, General Manager of Wen Wan Tian Xia spoke about his company's determination to fight illegal wildlife trade. In recent years the company has routinely blocked and deleted advertisements offering illegal and threatened wildlife products, as well as using messaging to dissuade buyers and sellers from dealing in such goods. 
The event was an important step in targeting a specific potential consumer group for threatened wildlife products, and both TRAFFIC and Wen Wan Tian Xia anticipate further collectors will join the alliance of those committing not to collect endangered wildlife products and will encourage their friends and peers also to adopt "green collecting" values. 
A number of similar events with collector organizations are currently in preparation. 
---