More than 2300 turtles seized at Jakarta international airport
UPDATE: Just days after more than 2,350 Pig-nosed Turtles were seized in Jakarta, another 5,284 have been seized in Bali.  The turtles were seized on 22nd January 2015 at the Ngurah Rai airport by the Fish Quarantine (BKIPM) and the Ngurah Rai airport sub-district police force.  The turtles, crammed in checked-in bags and boxes, arrived on a flight from Mozes Kilangin airport in Timika, Papua.  The investigation is now being handled by the police in Timika and Ngurah Rai and three passengers were detained for questioning.  TRAFFIC congratulates the authorities for intercepting these illicit shipments.  "Given what we know about the seasonality of the illegal harvest and trade in this species, it is highly likely that more such attempts will be made in the near future", says Dr Chris R. Shepherd, Regional Director of TRAFFIC in Southeast Asia. "We strongly encourage the authorities to punish offenders to the full extent of the law, to deter further smuggling of this threatened species."
Kuala Lumpur, Malaysia, 22nd January 2015—Authorities in Jakarta's Soekarno-Hatta Airport have foiled a bid to smuggle an astonishing 2,350 Pig-nosed Turtles out of Indonesia this week, highlighting the continuing pressure on a species sought after for its rarity and exotic looks.
---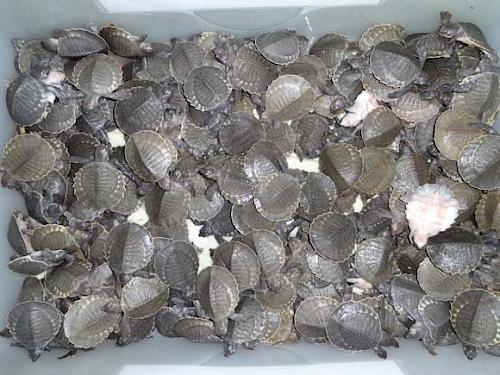 The turtles, found only on the island of Papua (shared between Indonesia and Papua New Guinea) and Australia, were packaged in boxes falsely labelled as mangrove crabs and were bound for Shang Hai, China, via Singapore, where they would have been sold as pets or, in some cases, for consumption.
The seizure, made on 17th January by the Ministry of Maritime Affairs and Fisheries via the Fish Quarantine Inspection Agency, is not the first of its kind.  In January 2014, Indonesian officials seized more than 8,000 baby Pig-nosed Turtles hidden in suitcases suspected to be destined for Singapore and China.  Shortly after that, on 12th January 2014, authorities in Hong Kong intercepted a shipment of some 2,700 Pig-nosed Turtles coming from Jakarta, Indonesia, falsely declared as live tropical fish.  
Pig-nosed Turtles are totally protected by Indonesia's national legislation, and are listed in Appendix II of the Convention on International Trade in Endangered Species of Wild Fauna and Flora (CITES).
"Pig-nosed Turtles are being absolutely hammered for the lucrative, but illegal pet trade" said Dr Chris R. Shepherd, Regional Director for TRAFFIC in Southeast Asia.  "It is highly unlikely this species can withstand such enormous offtake."
TRAFFIC asks that the would-be buyers of this species, and shops selling them as pets, think again.  
"When you buy a Pig-nosed Turtle for a pet, you are not only supporting illegal wildlife traders, but you are also directly contributing to the decline of this species in the wild."  
Already, the Pig-nosed Turtle has been assessed as being Vulnerable by the IUCN Red List and potentially faces extinction in the wild.
Concerned for the fate of this species, TRAFFIC launched Assessing the trade in Pig-nosed Turtles Carettochelys insculpta in Papua, Indonesia, in October 2014, which revealed the ongoing massive illegal trade in this species, with thousands being illegally harvested from the wild to feed international demand. The report highlighted that while legislation in Indonesia was adequate on paper, actual enforcement on the ground was insufficient to prevent the large-scale poaching and smuggling.  
The report strongly recommended that the Indonesian authorities increase their vigilance and take strong action against the illegal trade, at point of collection, through the trade chain to the final exporter.  The report also called upon recipient countries, such as China, to increase their efforts in preventing the species from being smuggled in.  The TRAFFIC report warned that authorities should be especially attentive between January–March when new hatchlings are increasingly trafficked.
"The seizure is timely and stands as one example of a worrying illegal trade between wildlife-rich Indonesia and large consumer markets in China," said Shepherd. 
The seizure follows a move by the governments of Indonesia and China to strengthen co-operation on wildlife trade issues. In September, 2014, the two governments signed a Memorandum of Understanding (MoU) to increase direct trade in wildlife from Indonesia to China, without a third country intermediary and also strengthen co-operative efforts to reduce illegal trade in wildlife.
---