Tortoises illegally on sale in Indonesia
Jakarta, Indonesia, 1st August 2010—Ploughshares, the world's rarest tortoise species have been observed openly for sale at an exposition in the centre of Jakarta, Indonesia's capital. 
---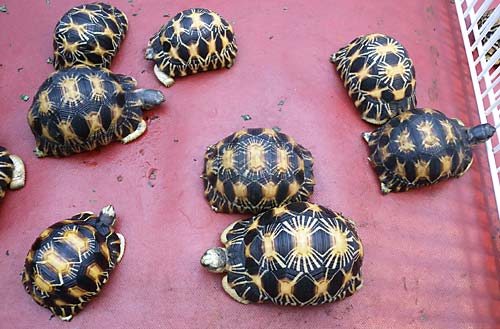 Ploughshare Tortoises Astrochelys yniphora and other threatened reptile species were seen illegally on sale by TRAFFIC staff last week at the expo which ran from 2 July to 2 August. 
In addition to Ploughshares, Radiated Tortoises Astrochelys radiata, Indian Star Tortoises Geochelone elegans and Pig-nose Turtles Carettochelys insculpta were also being offered for sale—none of which may be legally sold in Indonesia. 
International trade in all these reptiles is also regulated under the Convention on International Trade on Endangered Species of Wild Fauna and Flora (CITES). Ploughshare Tortoises and Radiated Tortoises are listed in Appendix I of the Convention, which means no international commercial trade is permitted.
"Indonesia has sufficient legislative tools at their disposal to combat the illegal trade in tortoises and freshwater turtles, but recent surveys and this expo demonstrate that the trade in endangered species continues," said Chris Shepherd, Senior Programme Officer with TRAFFIC Southeast Asia
"Indonesia has been a positive supporter of the ASEAN-Wildlife Enforcement Network, and should lead by example in the war against illegal wildlife trade by stamping out this sort of blatant trade." 
The Southeast Asian region has emerged as a major hub for illicit trade in threatened reptile species, including Indian Star Tortoises from South Asia and Ploughshare and Radiated Tortoises from Madagascar.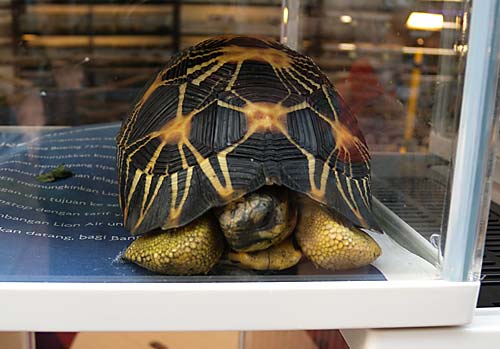 In the past two months, authorities in Malaysia have intercepted two shipments containing hundreds of Malagasy tortoises and other reptiles concealed in passengers' luggage at Kuala Lumpur airport, while a recent TRAFFIC investigation found many illegally traded reptiles on sale in Bangkok's Chatuchak market. A visit to Jakarta's markets also found many Radiated Tortoises and other species prohibited from trade.
TRAFFIC urges the Indonesian government to close down Jakarta's wildlife markets, which have long been centres of trade in illegal species, and a blemish to the country's reputation.
"Dealers in the region know full well that it is illegal to trade in these animals, but do so with little fear of prosecution." said Shepherd. 
"It is now up to the authorities to change this."
---