India and Nepal sign accord to protect wildlife and tackle crime
New Delhi, India, 4th August 2010—India and Nepal have signed an agreement to ensure better management of forest areas, many of them key habitat for Tigers and other threatened wildlife, along the 1,751 km Indo-Nepal border. 
---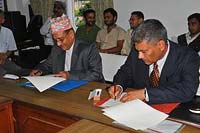 Both countries will also co-ordinate their implementation of national action plans to protect Tigers, rhinos and elephants and are committed to strengthening the capacity of personnel involved in wildlife conservation, by intensifying the joint patrolling of border areas and to restoring border habitats. 
Regular consultative meetings between the two countries will be held to review progress and plan future strategies. 
"For the value of long-term conservation, it is encouraging to see the strengthening of the existing collaboration between India and Nepal for the protection of biodiversity and ecological security in the area bordering the two countries," said Mr Ravi Singh, Secretary General and CEO, WWF-India. 
Key transboundary areas to benefit include Sukhlaphanta- Lagga Bagga- Pilibhit, Bardia-Katerniaghat-Khata, Banke-Suhelwa, Jhapa-Darjeeling and Kosi Tappu. 
"With wildlife moving freely across the border and illegal wildlife trade increasingly a transnational crime, such inter-country agreements are imperative for ensuring adequate biodiversity conservation in South Asia," said Mr Samir Sinha, Head of TRAFFIC India. 
"In the past, porous borders have allowed smuggling of protected wildlife and other wildlife products out of the region for consumption in other parts of Asia. 
"The new collaboration will enable a better flow of intelligence between India and Nepal and lead to joint operations to curb the illegal wildlife trade."
Items smuggled from India to Nepal have included animal parts such as Tiger, Leopard, Snow Leopard and otter skins, pangolin scales, Yarsa Gumba and Red Sanders, all items that have been seized. 
The signing of the Memorandum of Understanding (MoU) on 29 July followed a meeting on transboundary biodiversity conservation held in Kathmandu, Nepal between senior officials of India's National Tiger Conservation Authority and Nepal's Ministry of Forest and Soil Conservation.
---