Hundreds of Malagasy tortoises seized in Malaysia
Update: on 20th July, the two women passengers involved were each sentenced to a year in jail under Section 10 (a) of the International Trade in Endangered Species Act 2008. 

They were the first to be prosecuted under the Act that came into force on 28 June and provides for a maximum fine of RM100,000 per animal or plant but not exceeding an aggregate of RM1 million (USD316,000), or to imprisonment for a maximum term of seven years, or both, for importing or exporting any scheduled species without a permit.
Kuala Lumpur, Malaysia, 16th July 2010—Malaysian Customs Department officers on Wednesday foiled another attempt to smuggle hundreds of Critically Endangered Madagascar tortoises into Malaysia and arrested two women in whose bags, the tortoises were hidden.
---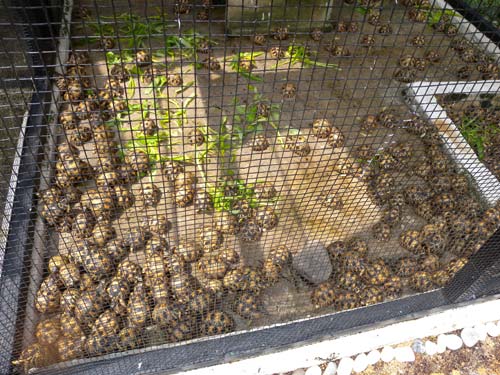 The Malagasy women had filled two bags with 369 Radiated Tortoises Astrochelys radiata and five Ploughshare Tortoises Astrochelys yniphora. Apart from the tortoises, the duo had also hidden 47 Tomato Frogs Dyscophus antongilii and several chameleons in their luggage.
This is the second case in just over a month involving the smuggling of these rare tortoises into Malaysia. In early June, Customs officers at the Kuala Lumpur International Airport, discovered 285 Radiated Tortoises, 14 Spider Tortoises Pyxis arachnoids and a Ploughshare Tortoise in two unclaimed suitcases that also contained a stash of drugs. No arrests were made in that incident.
The reptiles and amphibians seized in both cases have been handed over to the Department of Wildlife and National Parks (Perhilitan).
Perhilitan Director-General Datuk Abd. Rasid Samsudin told press that the two suspects were being investigated under Section 10(A) of Malaysia's International Trade in Endangered Species Act 2008, which came into force this month.
This section of the law provides for a total fine of up to MYR 1 million or a maximum jail sentence of seven years, or both, if a person is convicted of importing or exporting any scheduled species without a permit.
These cases confirm links between criminal elements in Southeast Asia and Madagascar.  TRAFFIC Southeast Asia urges enforcement agencies within the ASEAN-WEN to collaborate in shutting these syndicates down, especially in international airports, as these are truly the hubs of the trade.
Investigations to find the masterminds behind the trade in Madagascar's tortoises in Southeast Asia should be initiated. It is these people, and those that continue to buy these illegal animals that are driving Malagasy wildlife towards extinction.
The second seizure of Madagascar tortoises comes hot on the heels of several Perhilitan successes this month.
"Malaysia's enforcement officers are to be congratulated on their crackdown on wildlife crime," said James Compton, Director of TRAFFIC's Asia-Pacific Programme.
"These efforts send a strong deterrent signal to those involved in the illicit trade that this global problem is being tackled in an increasingly systematic manner by effective law enforcement action."
On 11 July, Perhilitan's Wildlife Crime Unit (WCU) raided the premises of a flea market trader in the state of Selangor and seized several wildlife trophies including five Tiger claws, the casks and beaks of two Rhinoceros Hornbills, Sambar and Barking Deer antlers, bags and shoes made of python and cobra skins and 96 items made of elephant ivory.
On 13 July, the WCU and Malaysian Police raided a car workshop in Kuala Lumpur and discovered over 600 birds, many of them protected under local legislation and/or by international conventions, including three Straw-headed Bulbuls Pycnonotus zeylanicus a Blue-and-Yellow Macaw Ara ararauna, nine Sulphur-crested Cockatoos Cacatua galerita, three Palm Cockatoos Probosciger aterrimus and a pair of Twelve-wired Bird of Paradise Seleucidis melanoleucus.
Two men linked to this case are still at large, police told press on Tuesday when announcing the seizure.
---