Thailand campaign on illegal ivory: consumers warned "Buy Ivory, Buy Trouble"
Suvarnabhumi International Airport, Thailand, 3rd March, 2010—Enforcement Authorities in Thailand today launched a "Buy Ivory, Buy Trouble" campaign today aimed at raising awareness of the illegal trade in elephant ivory items sold as souvenirs to holiday makers and others. 
---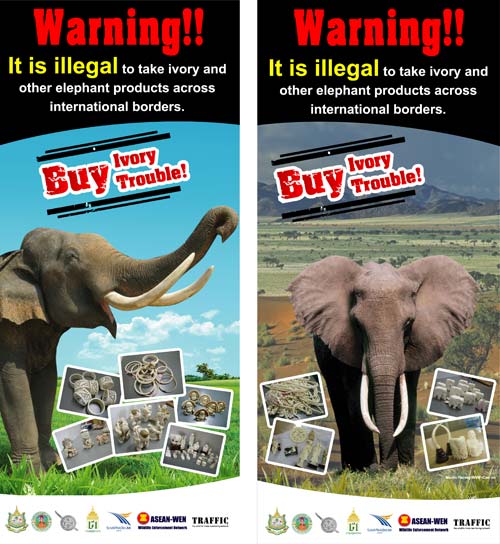 The Department of National Parks, Wildlife and Plant Conservation (DNP)—the Thai authority responsible for tackling illegal wildlife trade, has launched the campaign, in co-operation with the Airport Authority of Thailand (AOT) and the wildlife trade monitoring network TRAFFIC, targeting passengers travelling through Suvarnabhumi International Airport. 
Elephants are threatened across much of their range because of poaching for the illegal ivory trade. Thailand was recently identified as one of the top three countries most highly implicated in the illicit ivory trade, and was the country of most concern in Asia. 
The Royal Thai Customs Department has carried out a number of high profile seizures at Suvarnabhumi International Airport recently, netting hundreds of tusks, dried elephant tails and worked ivory. The latest was last week, of 239 African Elephant tusks, weighing an estimated 2 tonnes, and was reportedly the largest ivory seizure ever in the country. 
Consumers fuel the illicit ivory trade through buying ivory products without realizing they are illegal. 
"The government hopes this campaign will spread a strong and clear message to the public that they have an important role to play in ending the illegal ivory trade.  We also hope that the campaign increases awareness and understanding of laws that govern the trade. Lastly, the Government is committed to catching and punishing illegal traders," said Mr Suwit Khunkitti, the Minster of Natural Resources and Environment.
Mr Jatuporn Buruspat, Director General of DNP, also emphasized the need for good co-operation with other enforcement authorities such as the Royal Thai Customs Department, the Royal Thai Police and the Natural Resources and Environmental Crime Suppression Division.
"Suvarnabhumi Airport authorities recognize the importance of wildlife conservation and in supporting activities to combat the illegal wildlife trade including the illicit trade in elephant ivory. As an important regional gateway to the rest of the world, we will do everything in our power to ensure wildlife traffickers think twice before trying to smuggle illegal goods through this airport. Finally, on behalf of Suvarnabhumi Airport: it is my sincere wish that this campaign reaches as many people as possible, in particular tourists and foreign visitors visiting Thailand," said Mr Nirandra Theeranartsin, General Manager of Suvarnabhumi Airport.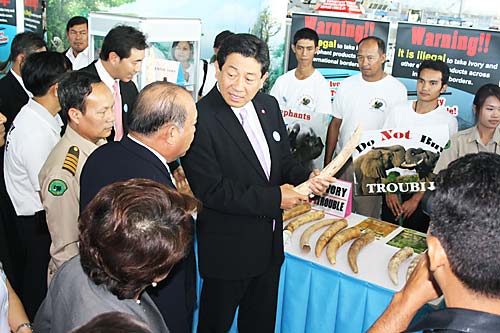 The campaign includes an exhibition at Suvarnabhumi International Airport by the DNP and the distribution of brochures to inform the public, especially travelers and visitors, about the problem of ivory trade in Thailand. It also includes information about the laws that govern and control the trade. 
 The DNP will also distribute stickers featuring the warning message: "It is illegal to take ivory and other elephant products across international borders" to shops selling ivory products in Thailand, asking them to co-operate to distribute this message to locals and tourists.
"TRAFFIC applauds the work of the government thus far, and would be pleased to provide any necessary technical support to help Thailand fulfill its international obligations to tackle the illegal ivory trade and in the enforcement of strengthened national legislation", said Chris Shepherd, Programme Officer with TRAFFIC Southeast Asia. 
---
Notes:
Four major ivory seizures have been recorded at Suvarnabhumi International Airport since November 2008:

•    The first case involved a seizure of ivory worth 2.7 million Baht, from travelers entering Thailand on a Qatar Airways flight from Doha, on November 17, 2008.  
•    The second seizure was on January 6, 2009. Thai Royal Customs seized 463 elephant tusks weighing 898 kg and 13 pieces of dried elephant tails worth an estimated 26.47 million Baht from an Emirates flight from Dubai.  
•    The third case was on August 18, 2009. Thai Royal Customs found 316 pieces of elephant tusks hidden in seven crates weighing 812 kg on a Qatar airways flight from Doha.  The seized items were valued at an estimated 20.31 million Baht.
•    The most recent case, last week, involved 239 tusks weighing 2 tonnes and was said to have from Kenya via Dubai.
---