Release of rhino poachers exposes widespread enforcement failures
Gland, Switzerland, 2nd March 2010—The release of six alleged rhino poachers from custody two weeks before a meeting of the largest wildlife trade convention is emblematic of the chronic lack of political will to enact enforcement efforts required to save these endangered species.
---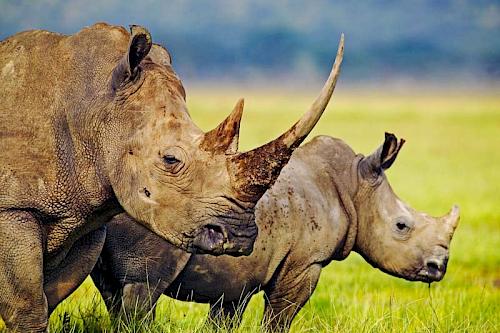 A Zimbabwean court last week granted bail to six men arrested at Bubye Valley Conservancy, home to Zimbabwe's largest remaining rhino population, in connection with rhino poaching. Charges included illegal possession of firearms and illegal possession of a rhino horn. 
The incident, part of a surge in rhino poaching in Zimbabwe and South Africa, is made worse by a lack of enforcement support in Zimbabwe in particular.
As 175 countries prepare to meet to for the 15th Conference of the Parties to the Convention on the International Trade in Endangered Species of Wild Fauna and Flora (CITES CoP 15) in Doha, in March, the increased poaching of rhinos and trade in rhino horns—compounded by failed enforcement efforts—is threatening to undermine conservation successes to date.
Most rhinos are listed in the Convention's Appendix I, which bans trade in their parts for commercial purposes.  Countries participating in the CITES convention have been tasked with combating illegal trade in rhino horn.  
"Zimbabwe's failure to live up to its obligations to CITES is unacceptable and has caused its already endangered rhino population to decline," said Colman O'Criodain, Wildlife Trade Analyst, WWF International.  "The time has come for the CITES Parties collectively to decide how to address this failure."
This incident, coming so soon after Zimbabwe was specifically urged by the CITES Secretariat to tighten up its law enforcement to protect rhinos, will reduce Zimbabwe's ability to defend its wildlife management policies at the forthcoming CITES conference 
Last year, rhino poaching worldwide hit a 15-year high due to increased demand for rhino horn.  A recent report by TRAFFIC and IUCN, the International Union for the Conservation of Nature, showed that since 2006, 95 percent of the poaching in Africa has occurred in Zimbabwe and South Africa.  The report also showed that the conviction rate for rhino crimes in Zimbabwe is only three percent.  
WWF and TRAFFIC urge Zimbabwe, South Africa and all CITES Parties to uphold the commitments they have made as signatories to the Convention and dramatically improve law enforcement, including investigation of poaching incidents and prosecution of rhino crimes.
"Rhino poachers are currently operating in an environment where they are allowed to break the law without appropriate consequences," said Steven Broad, Executive Director of TRAFFIC. "This kind of ineffective law enforcement increasingly undermines the success of more than a decade's work of bringing rhinoceros populations in southern Africa back up to healthy levels." 
Most rhino horns leaving southern Africa are destined for medicinal markets in southeast and east Asia, especially Vietnam, where demand has escalated in recent years. 
---