Strong FairWild presence at world leading organic food fair
March 2016, Nuremberg, Germany—Last month more than 48,000 trade visitors from 132 countries travelled to Nuremberg for Biofach, the World's Leading Trade Fair for Organic Food. 
---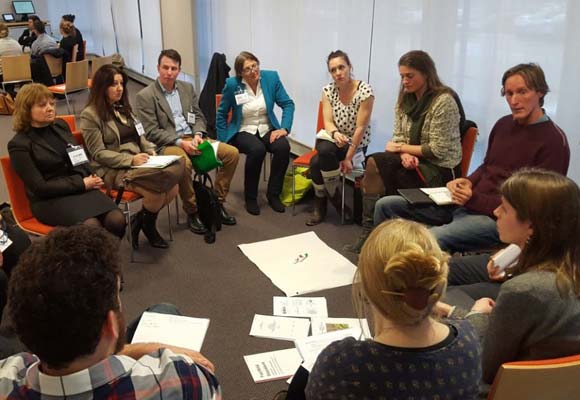 Biofach is a key event and meeting point where, from 10–13 February, the FairWild Foundation was one of more than 2,000 exhibitors introducing sustainability products and services to the organic sector. 
TRAFFIC is a partner in the FairWild Foundation, which promotes sustainable, fair and value-added management and trading system for wild-collected plant ingredients through adoption of the FairWild Standard.
A side-event on FairWild Standard and certification scheme for sustainable wild collection: from audit to market held during Biofach attracted around 60 participants. The workshop focused on identifying challenges with implementing the FairWild Standard and the future development of the FairWild certification scheme. 
Topics examined ranged from effective and efficient auditing of wild collection practices; best practices in resource assessment, management and monitoring; and communications and marketing of wild-sourced ingredients.
"It was great to get feedback on these issues from people with first-hand experience of implementing the FairWild Standard," said Bryony Morgan, FairWild Foundation's Executive Officer. "This really helps to refine our priorities for the year ahead."
The event also demonstrated the interest to collaborate on different aspects of sustainable sourcing and the FairWild system. 
Anastasiya Timoshyna, TRAFFIC's Medicinal Plants Programme Leader, said: "Relatively few people realise that many plant ingredients are wild collected. Some great recommendations were made to raise awareness about this, including the use of social media, opportunities to promote FairWild through engaged companies, and the potential for collaborative industry campaigns."
Workshop participants also recommended an investment in increased local auditor capacity in order to lower costs, improve understanding of local context, and reduce barriers to accessing the scheme. A movement towards "harmonised" inspections covering more than one certification scope was also recommended, as is currently being piloted through projects in Pakistan aiming to align FairWild requirements with those of organic, GACP and other fair trade systems.
The wide variety of contexts in which resource assessment is carried out were also highlighted by participants. In some cases, inventory data were readily available from forest management agencies; in others, the responsibility fell entirely to the certified operation. Mai Nguyen, a Senior Programme Officer with TRAFFIC in Viet Nam and project manager of a DfID (now FCDO)/Defra Darwin Initiative supported project, Enhancing management and benefit flows in Vietnam's wild medicinal plant products, who attended the BioFach fair shared experiences with supporting the provincial Forest Protection Department and collecting communities in Viet Nam in establishing a management plan for wild-harvesting of particular medicinal plant species in the buffer zones of protected areas.  Other challenges identified included how to integrate other collection activities taking place into resource management plans and how to ensure that assessment is inclusive, incorporating local knowledge of collectors and communities. 
Elisabeth Rüegg, FairWild Board member and event moderator, said: "A truly sustainable supply chain is not easy to achieve for wild resources. The workshop revealed the strong desire among FairWild stakeholders to exchange experiences and access case study material on best practices. We will now need to work to identify the best platforms and mechanisms to facilitate this. Knowledge exchange will be a key emphasis of initiatives to be introduced in 2016, such as trainings under the FairWild auditor competence programme."
Broader discussions at the fair focused on the future of the organic industry, with sector leaders now aiming to support a break-out from its current niche into the mainstream ("Organic 3.0"). 
The FairWild Standard provides key guidance to help strengthen sustainability of organic wild collection, and improved alignment of requirements is identified as an important area of work ahead for the certification scheme.
FairWild Foundation's presence at BioFach was supported by Friends of FairWild donations. FairWild Foundation co-exhibited at the BioFach 2016 with IMOswissAG, part of the Ecocert group. 
The engagement of TRAFFIC was supported through a DfID/Defra Darwin Initiative supported project, Enhancing management and benefit flows in Vietnam's wild medicinal plant products.
---