Concern raised over protection of Malaysia's wild Tigers
Kuala Lumpur, Malaysia, 1st March 2016—MYCAT, an alliance of four wildlife conservation groups has sounded the alarm over the loss of wild Malayan Tigers, following a spate of Tiger deaths in the country.
---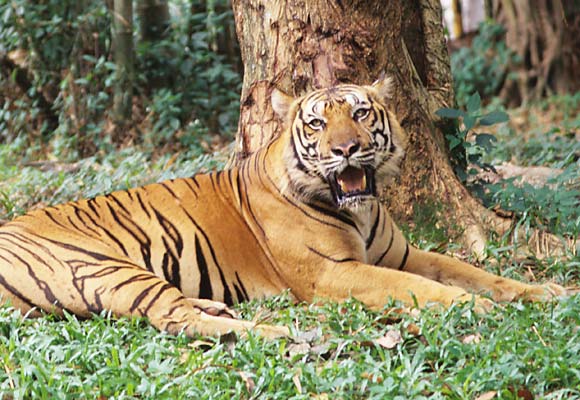 The concern was triggered by recent seizures of two wild Tigers from illegal traders and the rescue of a third from a snare. The wild population suffered a further loss when a Tiger, pregnant with two cubs, was knocked down along a major highway. These incidents occurred over a 26-day period, beginning 20th January this year. 
The Malaysian Conservation Alliance for Tigers (MYCAT) described the losses as the latest cases in a string of Tiger deaths in Malaysia and launched a petition last Friday calling for strengthened prosecution against wildlife crime and to ensure that the country's laws are being fully utilised as a deterrent against poaching and trafficking, particularly of wild Tigers. The online petition also calls for better protection for Tiger habitats and can be signed online, not just Malaysian citizens at bit.do/mycatpetition. 
Malaysia has between 250 and 340 wild Tigers, down from an estimated population of 500 over a decade ago. In 2013, the country saw its biggest Tiger trafficking case when a local man was caught with eight Tiger skins and 22 bags of Tiger bones in his house in northern Peninsular Malaysia. He was convicted and sentenced to just 12 months in prison and MYR200 000 (approximately USD47 620) in fines, despite the law allowing for stiffer penalties. The arrest this February of a man caught while ferrying a Tiger carcass on the back of his motorcycle also points to how emboldened some wildlife criminals have become. 
"Time and again Malaysia has seen Tiger traffickers and traders get away with a slap on the wrist, although the law allows for so much more. Why should they get away with lenient sentences, when Tigers get the death penalty?" said Dr Kae Kawanishi, Tiger biologist and MYCAT General Manager.
MYCAT is hoping to amass 100,000 signatures by Global Tiger Day on 29th July 2016.
---
About MYCAT
MYCAT comprises the Malaysian Nature Society, TRAFFIC, Wildlife Conservation Society-Malaysia Programme and WWF-Malaysia and serves as a joint platform for work to conserve wild Tigers in Malaysia.