Strengthening wildlife law enforcement in India
Kolkata, India, 15th March 2011—TRAFFIC India, in collaboration with the UK Government's Defra (Department of Environment, Food and Rural Affairs), Wildlife Institute of India, WWF-India and West Bengal Forest Department held a two day workshop last week in Kolkata, West Bengal on Strengthening Wildlife Law Enforcement in India. 
---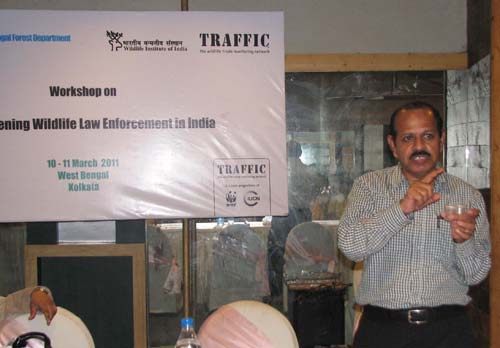 The meeting informed enforcement officers from Customs, CID personnel and officials from the West Bengal Forest Department about the latest tools and techniques available to fight illicit wildlife trade and also gave them an overview of the scale of organized wildlife crime worldwide.
In India, the products most frequently encountered in illegal wildlife trade are mongoose hair, snakeskin, rhino horn, Tiger and leopard claws, bones, skins, whiskers, elephant tusks, deer antlers, turtle shells, musk pods, bear bile, medicinal plants, timber and birds such as parakeets, mynas and munias.
Kolkata, being well connected with sea, air and land routes provides ample opportunities for smuggling of wildlife goods. It is a major route for ivory, live birds and the pet animal trade. Kolkata is also a centre for illicit trade in Star Tortoises and just before the workshop, on 9th March, more than 100 tortoises were found on a train in Howrah. 
Inaugurating the workshop, Dr A K Raha (PCCF- West Bengal Forest Department) said that such multi-agency training is necessary for strengthening enforcement efforts that will help conserve the precious biodiversity of the country. 
Mr Samir Sinha, Head of TRAFFIC India stressed the need for increased co-operation between various enforcement agencies for fighting wildlife crime. He also talked about broadening the scope of conservation to beyond just the well-known charismatic species that are threatened by illegal wildlife trade. 
Resource material provided to the participants included a printed compendium, CDs on various related themes and other materials including a copy of the Wildlife (Protection) Act, 1972, CRPC manual and various books and posters pertaining to wildlife law and enforcement issues. 
A wildlife forensic sample collection kit developed jointly by the Wildlife Institute of India and TRAFFIC was also distributed to participants to enable field staff to collect samples for forensic analysis.
The workshop was the fourth in a series organized as part of a collaborative effort between the Government of India, the UK Government, TRAFFIC and the Wildlife Institute of India, for dissemination of knowledge and skills for combating wildlife crime across the country. 
---