Tiger parts seized during restaurant raid
Kuala Lumpur, Malaysia, 16th March 2011—A restaurant owner could face RM600,000 (USD196,000) in fines and time in jail after authorities found him in possession of meat and parts of several protected species including several pieces of dried Tiger parts. 
---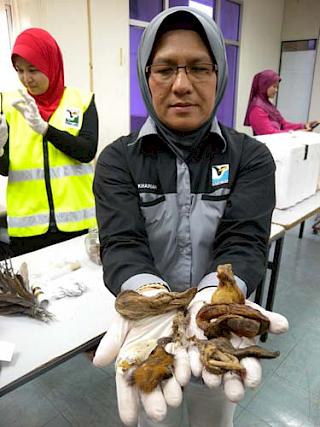 Officers from the Department of Wildlife and National Parks (Perhilitan) in Pahang, a state on the east coast of Peninsular Malaysia, found close to 17 kilogrammes of Common Barking Deer meat, two skinned Mouse Deer, 54 Argus Pheasant feathers, a White-breasted Waterhen when they raided the man's house and shop in a raid yesterday (15th March). 
The dried Tiger parts were found in a sealed glass jar along with dried parts of several other animals, which will be sent for forensic analysis.
The find of Tiger parts in the suspect's possession is significant because his village of Kubang Rusa in Merapoh, lies within the country's most important Tiger corridor, said Pahang Perhilitan Director Khairiah Mohd Shariff.
This corridor, Sungai Yu, is a critical link between the Taman Negara national park and the Main Range, two of Malaysia's most important Tiger landscapes, as identified in the country's Tiger Conservation Action Plan. 
The suspect is a second-time offender, having been convicted in 2008 for possession of Barking Deer meat without a permit. He could face two charges under Section 68 of the Wildlife Conservation Act 2010 for keeping the Tiger parts and Argus Pheasant feathers without a permit. Unlawful possession of some totally protected species such as Tigers, also carries a mandatory jail requirement under this law.
The suspect also faces another three charges under Section 60 of the same Act for keeping the protected White-breasted Waterhen and exotic meats without a permit. He is out on bail pending trial.
In two other operations this month, Perhilitan Pahang seized Wild Boar meat from two houses in the town of Triang and are expected to charge two local men and a woman for being in possession of the meat without a licence. And earlier in February, officers also seized a Sulphur-crested Cockatoo and two Blue-crowned Hanging-parrots from a man in the town of Janda Baik. 
All suspects face heavy fines under the new law which came into force last December.
So far this year Perhilitan Pahang has also seized four guns from people who have committed hunting offences in the State, including one home-made gun.
Khairiah expressed concern over the abuse of weapons for illegal hunting and told a press conference that the Department would not hesitate to use its powers under the new law to confiscate guns under these circumstances and seek police assistance to revoke an offender's licence to carry and use a gun.
"It is wildlife traders such as this one that have given Malaysia a reputation as being a poaching hotspot and trade hub. These criminals are posing a serious threat to the continual survival of many increasingly threatened species," says TRAFFIC Southeast Asia's Regional Deputy Director Chris R. Shepherd.  
"The authorities are to be applauded for taking action, especially in such a critical Tiger landscape.  TRAFFIC urges the authorities to penalize this man and others like him to the full extent of the law to deter further such crime, and to demonstrate just how serious they are about protecting Malaysia's natural heritage," he said.
---