Star Tortoise trade, ivory surveys and much more: latest TRAFFIC Bulletin available
Cambridge, UK, 30th October 2015—The October issue of the TRAFFIC Bulletin, our flagship journal has been published and features a number of papers highlighting the emerging online trade in wildlife. 
---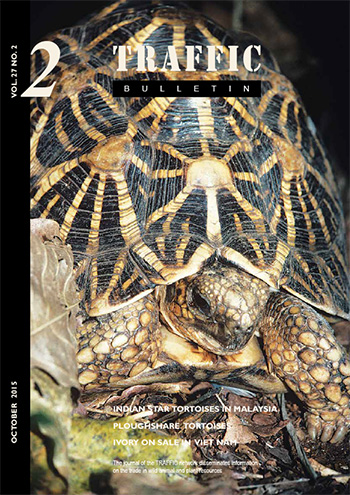 One paper demonstrates that although the availability of Indian Star Tortoises in pet and aquarium shops in Malaysia has dropped drastically over the past decade, likely owing to greater enforcement efforts and increased public awareness of the illegality of such trade, the threat of illegal trade persists as the trade shifts online. 
The issue covers a broad range of issues, everything from a successful project undertaken in China to establish and promote sustainable management of medicinal plants that also contribute to rural livelihoods through to a recent ivory survey in 21 cities in Viet Nam: some 2,300 ivory items were recorded openly for sale, a significant decline compared to previous surveys, the causes of which are discussed. However, much of the ivory trade appears to have shifted online. 
After having not been observed for decades, in 2012 the Earless Monitor Lizard, endemic to the island of Borneo, was rediscovered and international trade in the species soon commenced. At present, the internet is facilitating this trade, either directly by enabling open sale and trade exchange, or indirectly through discussions around the species. An article in the latest Bulletin provides an overview of the illegal international trade and considers that inclusion of this species in Appendix I of the Convention on International Trade in Endangered Species of Wild Fauna an d Flora (CITES) may help to curb the trade and aid in conservation of the species.
This issue also features a case study of the Ploughshare Tortoise, probably the most endangered tortoise in the world, threatened by habitat destruction in its native Madagascar and by illegal trade. The authors examine the critical role that zoos can play in the conservation of this species. 
To read more about these and many other wildlife trade-related issues, download the latest issue of the TRAFFIC Bulletin (PDF, 2 MB). 
The TRAFFIC Bulletin is the only peer-reviewed journal in the world dedicated to studies of global wildlife trade, providing news on the trade in wildlife resources, the latest in related legislation, investigations and seizures, and original reports. 
Thanks to the generous support of our donors, the TRAFFIC Bulletin is distributed free of charge both in hard copy and electronically to government wildlife and enforcement agencies, conservation organizations, as well as NGOs and libraries, particularly in developing countries. To make sure you don't miss an issue, register here to receive them automatically.
While we are committed to ensuring the information vital to conservation efforts on wildlife trade issues is made freely and widely available, if you are in a position to support our efforts to continue doing so, please consider contributing towards the costs of publication and distribution of future issues by visiting our donations page. Thank you.
---