Vietnamese transport companies build a reputation for social and environmental responsibility
Ha Noi, Viet Nam, 2nd November 2015—Thirty-five of Viet Nam's biggest transport and logistic companies are ready to do their part to prevent wildlife smuggling following a risk-management workshop held today, organized by TRAFFIC, WWF, the Viet Nam Chamber of Commerce and Industry (VCCI) and the Viet Nam Automobile Transportation Association (VATA). 
---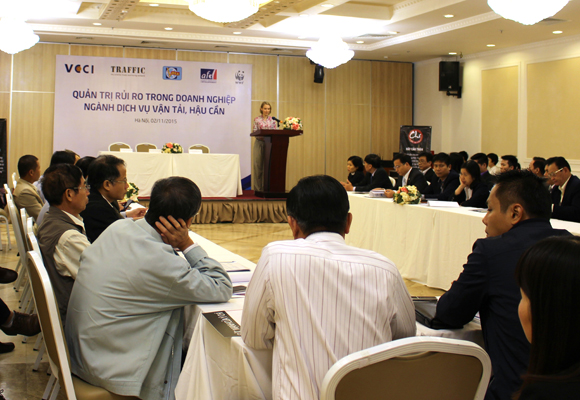 As wildlife trafficking grows in scope and sophistication, transport and logistics companies, from airlines to courier services, are increasingly finding themselves at risk of becoming part of the criminal trade chain. 
The workshop highlighted the reputational and legal risks wildlife trafficking poses to transport and logistics companies, and helped to identify the measures companies can take to combat such trade and also protect their company's brand.
"Criminals find covert ways to move their illicit goods between suppliers, buyers and middlemen, often using unwitting transport and logistic companies to do so," said Dr. Van Ngoc Thinh, WWF-Viet Nam Director.
"By being aware of and mitigating the risk of facilitating this illegal activity, transport and logistic companies can protect both their reputation and endangered species such as rhinos." 
The workshop, funded by Agence Française de Développement (AFD), provided an opportunity for the companies collaboratively to explore best practices and identify highly-effective solutions to challenges and risks associated with illegal wildlife trade. The companies left the workshop with the capacity to enforce and promote their zero tolerance of endangered species trafficking. 
"Risk management is a crucial component of a successful and sustainable business. By adopting a zero tolerance towards wildlife trafficking, these companies are making a strategic move to protect themselves from risks such as arrests, fines and other legal repurcussions, as well as risks to their brand integrity and reputation. This kind of forward thinking is making such companies leaders in their field," said Nguyen Van Thanh, Chairman of VATA. 
Many of the companies pledged not only to incorporate wildlife protection into their business practices, but also to encourage their customers and staff to share their zero tolerance towards endangered wildlife consumption. 
"Thanks to international and domestic pressure to end wildlife trafficking, consumers now more than ever have the ability and motivation to hold companies accountable for their role in combatting wildlife crime," said Madelon Willemsen, Head of Office for TRAFFIC in Viet Nam.
"Those Vietnamese companies taking active steps to protect endangered wildlife can build a strong reputation among consumers eager to support ethical business practices."
TRAFFIC and WWF have jointly worked with the logistics sector to address the transportation of illegal wildlife products through a series of collaborative efforts. TRAFFIC and WWF are committed to continuing this engagement with the transport sector, as collaborative approaches are key to successfully reducing the illegal trade in wildlife.
TRAFFIC's work on consumer behaviour change is supported in part by the German Polifund measure, implemented by the Deutsche Gesellschaft für Internationale Zusammenarbeit (GIZ) on behalf of the German Federal Ministry for Economic Cooperation and Development (BMZ).
---