Southeast Asia in illegal ivory trade spotlight
Kuala Lumpur, Malaysia, 20th March 2015 – Ivory related news dominated headlines in Southeast Asia over recent days as authorities announced the arrest of major players, revealed seizure and prosecution figures and stopped at least one ivory consignment bound for the region.
---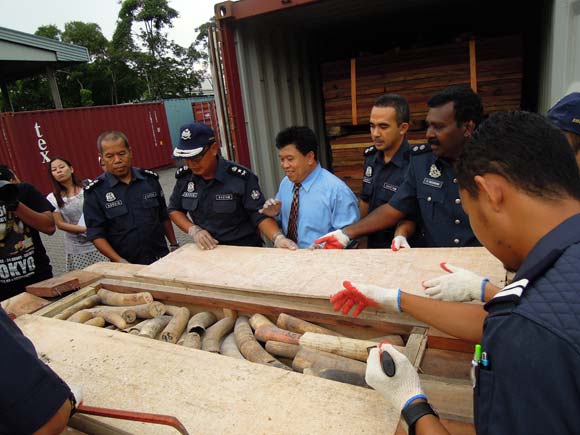 In Bangkok yesterday, Thai authorities announced the arrest of a 51-year-old Malaysian and a 47-year Thai man in connection with a seizure of 135 kg of African Elephant ivory in Surin province on 31st December, 2014.
The suspects were accused of trading and smuggling African ivory through Thailand's southern border. The Malaysian's traveling documents reportedly showed he had made frequent visits to Thailand and several countries in Africa, including Kenya.
This is not the first time a Malaysian has been arrested for trafficking ivory in Thailand. In 2010, another Malaysian man was arrested in Suvarnabhumi International Airport with 90 kg of tusks, which he carried in four suitcases. 
"It is heartening to see positive enforcement efforts made by Thailand in recent months," said Kanitha Krishnasamy, TRAFFIC Programme Manager in Southeast Asia.
Thailand, under international scrutiny over illegal ivory trade, has developed a National Ivory Action Plan to tackle the problem and has moved to change local laws that allowed African Elephant ivory to be trafficked and traded in the country.
"This arrest also provides a platform for close collaboration between Malaysia and Thailand. Further investigations on the Malaysian side, including by the Ministry of Finance, Customs and Immigration may shed additional insights into the operations and network of this individual," she added.
Meanwhile, in Malaysia's Parliament yesterday, Deputy Natural Resources and Environment Minister Datuk Seri Dr James Dawos Mamit announced that the country's Customs Department had seized 4,624 elephant tusks involving 11 cases between 2011 and last year.
He also revealed that two Malaysians and a Chinese citizen were convicted under national laws for illegal ivory possession and trade. The Chinese national was sentenced to two months' jail and a fine of RM250,000 (approximately USD76,000) for possession and exporting 16 pieces of elephant tusk; while one Malaysian was fined RM200,000 (USD60,000) or 36 months in jail for possession of nine pieces of elephant tusk, and the other fined RM2,000 (USD610) for possession of two pieces of elephant tusk.
In addition, the Deputy Minister told press Malaysia was considering raising penalties under its Wildlife Conservation Act 2010 to deter ivory smuggling among others. 
On 13th March, media reported that Ugandan authorities had intercepted a shipment of ivory at Entebe Airport destined to be smuggled to Singapore. The ivory pieces were hidden in cassava flour and sealed in four metallic containers labelled as shea butter to avoid detection that were revealed when the shipment was scanned. 
Examining the connectivity between African and Asian countries is a focus of the Wildlife Trafficking Response, Assessment and Priority Setting (Wildlife TRAPS) project, run by TRAFFIC and supported by the United States Agency for International Development (USAID). 
Earlier this year, in Bangkok, Thailand, representatives of transport and logistics companies joined TRAFFIC and the World Customs Organization under the auspices of the project in a ground-breaking meeting bringing leading private sector companies moving goods across the globe together with wildlife trade experts to initiate a process to strengthen partnerships to eliminate the risk of facilitating wildlife trafficking.
Lao PDR also made the headlines this week after it was named as one of three countries placed on a trade ban list for failing to meet their obligations to deal with illegal ivory trade. 
In the notice issued by the Convention on International Trade in Endangered Species of Wild Fauna and Flora (CITES), its Standing Committee recommended that all member Parties stop commercial trade in CITES-listed species with Lao PDR, Democratic Republic of Congo and Nigeria until further notice.
Recent TRAFFIC analyses highlighted nine high-value international wildlife seizures made in 2014 where Lao PDR was implicated as the source, transit or destination country. Lao PDR itself reported no major wildlife seizures during the year. 
Next week, on 23rd March, an African Elephant Summit follow-up meeting takes place in Kasane, Botswana, where governments will review their progress in implementing 14 Urgent Measures to safeguard African Elephants they committed to in December 2013. The meeting is followed, on 25th March, by the Kasane Conference on Illegal Wildlife Trade, where governments who adopted the London Declaration on Illegal Wildlife Trade last year will meet to review their progress in implementing that Declaration's commitments and further commit to new and tangible actions on eradicating the market for illegal wildlife products, ensuring effective legal frameworks and deterrents, strengthening law enforcement, and promoting sustainable livelihoods and development. TRAFFIC will be presenting at both events.
---