Nations agree "Urgent Measures" to curb elephant poaching
Gaborone, Botswana, 5th December 2013—Government delegates representing 30 countries meeting this week in Gaborone to discuss the elephant poaching crisis and unprecedented illegal ivory trade have unanimously approved 14 Urgent Measures to tackle the crisis. 
---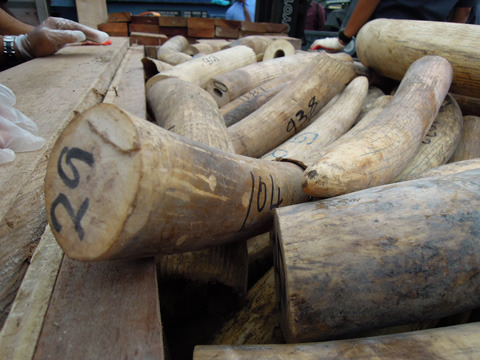 The Urgent Measures (PDF, 200 KB) were drawn up through a consultative process co-ordinated by the International Union for the Conservation of Nature (IUCN), who co-hosted the meeting alongside the Government of Botswana. 
Seven countries—Botswana, Germany, Somalia, United Kingdom, United States, Zambia and Zimbabwe—have already signed the Urgent Measures agreement, while Ministers from the other countries represented at the meeting are expected to do so by the end of this month.
Steven Broad, Executive Director of TRAFFIC, signed the agreement after non-governmental organizations were invited to show their commitment of support.
Crucially, the countries agreeing to the measures include those implicated along the entire ivory trade chain—from source, to transit and destination. 
The Urgent Measures are will all be initiated, if not completed, inside 2014. They range from a zero-tolerance approach to dealing with wildlife crime, enhancing enforcement capacity and strengthening international co-operation for dealing and reacting to poaching incidents, through to elephant poaching and ivory trafficking being introduced as standing agenda items on National Security Committees. 
The governments also agreed to pool resources to improve the monitoring of live elephant populations; reporting of illegal elephant killings to MIKE (Monitoring the Illegal Killing of Elephants; the CITES-managed poaching monitoring system); and reporting ivory trafficking cases to ETIS (the Elephant Trade Information System, managed by TRAFFIC on behalf of Parties to CITES). 
Measures to reduce the demand for ivory in consumer markets were also agreed, as were the introduction of secure ivory stockpile management measures and support for local communities to advance their rights and capacity to manage and benefit from wildlife and wilderness resources.
Inputs from 20 governments, 21 non-governmental organizations and 4 inter-governmental organizations went into drafting the Urgent Measures, which were approved at the meeting by consensus. 
All the Measures are designed to link to the elephant action plan process currently unfolding with eight countries plus Hong Kong under a CITES (Convention on International Trade in Endangered Species of Wild Fauna and Flora) led process and to the African Elephant Action Plan under the Convention. 
Meanwhile, the European Union (EU) has pledged EUR12.3 million for a "Minimising the Illegal Killing of Elephants and other Endangered Species" (MIKES) project that will include support, over a five-year period both for the existing MIKE and ETIS elephant monitoring programmes, and also pick up the monitoring of other endangered species such as rhinos and great apes.  
There have also been pledges of sizeable financial support from Germany and the Netherlands, and from Microsoft Philanthropist Paul Allen to support elephant censusing. 
"We hope that people will look back on the Gaborone Elephant Summit as an historic event, when the future of Africa's elephants finally took a turn for the better," said Steven Broad, Executive Director of TRAFFIC.
---