Sniffer dog Tracey helps recover 32 kg of ivory
New Delhi, India, 9th February 2012—Tracey, a two-year old female Alsation dog trained to sniff out wildlife products, has helped recover two elephant tusks, weighing over 32 kg from the forests of Dalma Wildlife Sanctuary in Jharkhand, India. 
---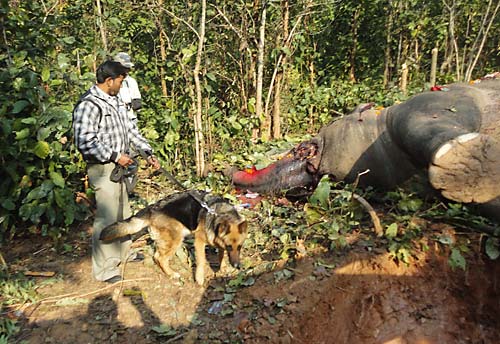 The tusks were from an Asian Elephant that had died two days earlier, but when forest officials inspected the carcass they found the tusks had been removed and Tracey was brought in from nearby Betla Tiger Reserve to help locate them. 
She searched the area extensively and led the team to the spot where the tusks were hidden.  The whole operation was successfully co-ordinated by Mr Kamlesh Pandey, DFO, Wildlife Division, Ranchi. 
Tracey is currently deployed by Betla Tiger Reserve and is one of the seven sniffer dogs trained under TRAFFIC India/WWF-India's sniffer dog training programme, the first of its kind in India to use dogs for detecting illegal wildlife products. 
Tracey's handlers Rajbeer and Rampado Sahidashave have also undergone specialized training. 
Forest Department officials in Jharkhand are greatly enthused by Tracey's success in recovering the stolen tusks. 
MKS Pasha, Coordinator- TRAFFIC India said, "Illegal wildlife trade has evolved into an organized activity threatening the survival of many species in India. In order to curb this growing menace, it is necessary that the best enforcement practices are deployed. 
"Using sniffer dogs for crime detection and prevention is one technique TRAFFIC has experience of running in several countries. We are happy it is making a difference in India too and hope more states will come forward to adopt this as a tool in the fight against wildlife crime".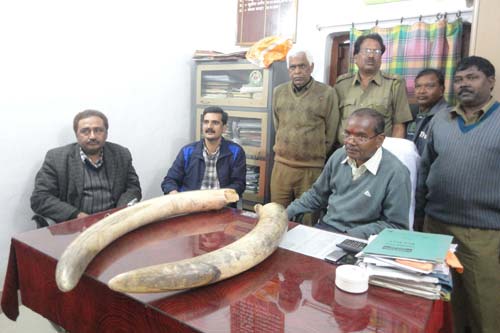 Ravi Singh, SG & CEO, WWF-India added, "We are proud to have initiated this innovative programme that is leading to early successes. The dogs are being used regularly for patrolling and are proving to be a strong deterrent".
"This is not the first time that the sniffer dogs have helped curb wildlife crime. In the recent past, Jackie, one of the qualified dogs apprehended two poachers in Hoshangabad district of Madhya Pradesh. Raja, another of the trained dogs posted at Bhrampuri Wildlife Division, Maharashtra, helped bust a Leopard poaching case that led to the arrest of seven involved," he added. 
The sniffer dog training programme was initiated in India by TRAFFIC/WWF in 2008 and since then 14 handlers and seven dogs and have been successfully trained to detect wildlife articles such as Tiger bone, Tiger skin, Leopard bone, Leopard skin and bear bile. The dogs and trainers are currently placed with the Forest Departments of Haryana, Maharashtra, Madhya Pradesh and Jharkhand.
---