Record setting 30-tonne pangolin seizure in Sabah ahead of World Pangolin Day
Sabah, Malaysia, 11th February 2019 – Alarming news continues to pour in for pangolins, the scaly mammal beleaguered by illegal trade, ahead of World Pangolin Day this Saturday, February 16th.
---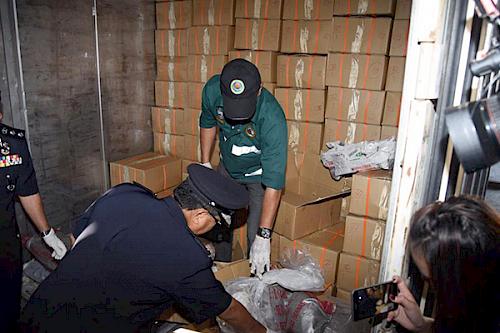 Following large seizures of pangolin scales amounting to 10 tonnes in Viet Nam, Hong Kong and Uganda over the past two weeks, authorities in Malaysia have announced the discovery of two major pangolin processing facilities stocked with thousands of boxes of pangolin meat in the state of Sabah. It is the biggest such bust Malaysia has seen to date.
Working on a tip off, police from the Sabah state capital of Kota Kinabalu and a team from the Sabah Wildlife Department first raided a factory in the city on 7th February, and later a warehouse in Tamparuli, some 35 km away from Kota Kinabalu.
From these two locations, authorities uncovered a syndicate dealing in about 29.8 tonnes of pangolins.
The haul included about 1,800 boxes full of frozen pangolins stuffed inside three refrigerated containers, 572 more frozen pangolins in six freezers, 61 live pangolins in cages and in a car boot and 361 kg of pangolin scales. Two bear paws and carcasses of four flying fox were also recovered.
Alongside the wildlife, enforcers found weighing, sealing and vacuum packing equipment as well as digital scales, thousands of unused plastic packaging and cardboard cartons which point to a well-established pangolin processing venture.  
A 35-year-old local man, believed to be the manager of the factory in Kota Kinabalu, who led authorities to the warehouse was also nabbed, Sabah police said in a press statement provided to TRAFFIC.
Sabah Police Commissioner Dato' Omar Mammah said in the statement that initial investigations have revealed that the Kota Kinabalu factory has been in operation for the last seven years and that the suspect had bought all the pangolins from local illegal hunters for distribution locally, and to the neighbouring state of Sarawak.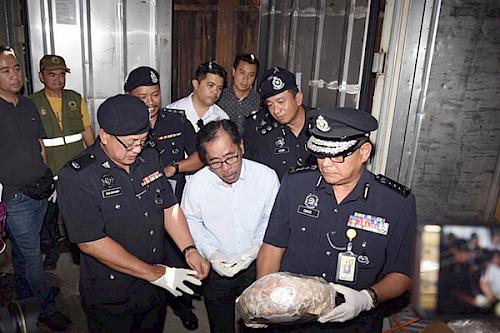 Thursday's seizures came exactly a decade after the discovery of logbooks in a warehouse once used by another pangolin trafficking ring. Those logbooks discovered by Sabah Wildlife Department (SWD) in February 2009 were the first to hint at Sabah's critical role in the sourcing and trafficking of the endangered scaly mammal.
An analysis of the logbooks by TRAFFIC, after they were generously provided by the SWD, revealed that about 22,200 pangolins were killed, and 834.4 kg of pangolin scales were sourced throughout the state and supplied to the syndicate during a 13-month period between May 2007 and January 2009.
Despite occasional seizures of live and processed pangolins since then, including a find of five tonnes of frozen pangolin in Sabah waters in December 2011 by Sabah Customs Marine Division, recent attention has largely been focused on Sabah's emerging role as a transit point in the global trafficking of pangolin scales from Africa to Asia.
This has arisen from a series of massive seizures of African pangolin scale shipments in Sabah's Sepanggar Port and at the Kuala Lumpur International Airport's Mail and Courier Centre originating from Sabah in 2017. A local businessman is facing trial in the Sabah courts stemming from one of these cases.
Including this bust, Sabah has been implicated in over 40 tonnes of pangolin smuggling since August 2017, including 13 tonnes of African pangolin scales.
Detecting large volumes of pangolin smuggling is no easy feat and Sabah authorities are congratulated for pursuing and taking down this smuggling operation
Kanitha Krishnasamy, TRAFFIC's Director - Southeast Asia
"It is hoped that comprehensive investigations can lead to unmasking the syndicate and networks operating from the state and beyond."
Thursday's discovery of the processing facilities draws attention back to local poaching, demand and illegal trade in pangolins as well as the persistent threat to the Critically Endangered Sunda Pangolin Manis javanica, Malaysia's only native pangolin species.
Sabah, which has its own wildlife legislation, upgraded the species to a totally protected animal in 2016, conferring it the highest level of protection under the law. A conviction for illegal possession of a totally protected species invites a minimum fine of MYR50,000 (USD12,500) and up to MYR250,000 (USD60,000) as well as a minimum of a year or up to five years imprisonment.
World Pangolin Day, a day to raise awareness on the world's most heavily trafficked mammal, falls on February 16th this year. Previous TRAFFIC studies in collaboration with the Adelaide University have shown that at least 20 tonnes of pangolins and their parts are trafficked internationally every year, through an average of 27 new routes annually.
---
Notes:
Explore the crisis behind pangolin poaching and find out what we're doing to combat illegal trade.
---