Tiger skins, elephant ivory and bones seized in Malaysia
Update: A 29 year old man appeared in Alor Setar Sessions Court on 15th February, charged under the Wildlife Conservation Act 2010 of possessing pieces of 8 Tiger skins, 22 Tiger bone pieces, 6 African Elephant tusks and one antelope horn. Bail was set at MYR70,000 (USD23,000). The trial date is yet to be announced. 
Kuala Lumpur, Malaysia, 10th February 2012—Eight Tiger skins, elephant tusks and bags of bones were seized in northern Malaysia, according to a statement released today by the Ministry of Natural Resources and Environment.
---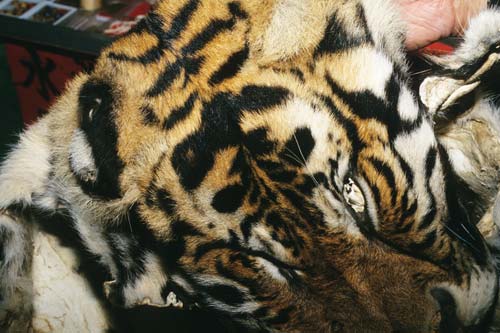 The items were found after a dozen officers from Malaysia's wildlife department, Perhilitan, raided a house following a tip-off in the early hours of Friday morning in Kota Setar in the northern district of Kedah. 
One local man was arrested and taken away for questioning. A second house was also raided as part of the investigations, although no animal parts were discovered there. 
Among the goods confiscated were 8 Tiger skins, 9 elephant tusks, one deer horn and 22 bags containing animal bones. The bones are to be sent away for identification and forensics analysis. 
"TRAFFIC warmly congratulates the wildlife department on this important seizure," said Kanitha Krishnasamy, Senior Programme Officer with TRAFFIC in South-East Asia. 
"However, it is vital thorough investigations are undertaken of all seized items to determine their origin, who was behind trafficking in them, and where the buyers are, so that they can be brought to book." 
The confiscation of elephant tusks could mark a shift in Malaysia's involvement in the illegal ivory trade. Prior to 2011, Malaysia was considered a transit country in the flow of ivory from Africa to Asia, but in January 2012, 450 kg of ivory was seized in Port Klang, with Malaysia as its final destination. 
Under Malaysian law, anyone convicted of possession of parts of totally protected wildlife, such as Tiger skins, faces a maximum fine of MYR100,000 (USD33,000) or up three years in jail or both, for each offence. 
"The government has regularly warned its citizens about the penalties for anyone caught dealing in protected wild animal parts," said Krishnasamy.
"Now is the time to back up those warnings—if anyone is convicted in this case, they should feel the full force of the law. A small fine is just a slap on the wrist and sends completely the wrong message: laws are there to be obeyed."
---