Review could lead to strengthened Russian legislation on endangered species
Moscow, Russia, 5th December 2012—A review of Russian wildlife legislation carried out by TRAFFIC and WWF means a loophole that had previously allowed traffickers to get away with insignificant fines will be closed provided the Duma—the Federal Russian parliament—accept the necessary amendments.
---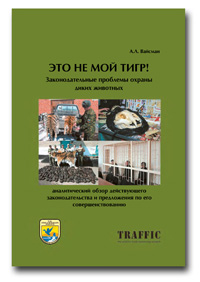 The outcome of the review, published in It's not my Tiger (in Russian), documents how, if a person was found to have endangered animal carcasses, they could simply claim to have found them dead and escape punishment. 
Recently one man was found in possession of the remains of six Tigers, another one with eight Tiger skins; under current laws they might only be eligible for an insignificant fine. 
Out of dozens of cases relating to Tiger poaching over the last three years in Russia, only two guilty verdicts have resulted. One of these was as recently as mid November this year, when a poacher was fined the equivalent of USD18,500 for killing a Tiger and sentenced to 18 months of community service. 
Currently three existing articles are under revision and two new articles are being drafted for addition to the Criminal Code of the Russian Federation so that not only is the actual killing of a protected animal regarded as a serious crime, but also "the purchase, possession, trade, storing, housing, transportation, processing and other use of of endangered species their parts and products produced of them." 
Both the new and revised articles prescribe much stronger punishments then currently in place, and if adopted, violators will be committed to jail and fined as well, sending out a strong message to deter poaching. 
"TRAFFIC sincerely hope that legislative gaps can now be closed and inconsistencies between laws and regulations removed, marking a significant step in protecting Tigers and other endangered animals," said Alexey Vaisman, Programme Officer with TRAFFIC in Russia. 
The Russian Ministry of Natural Resources and Environment is currently preparing a draft of the revised legislation in co-operation with TRAFFIC and WWF, staff of whom are official members of a number of legal panels, including the Working Group of the Committee for Natural Resources and Ecology of the Duma. This Working Group advises on the development and renewing of legislation on hunting and the conservation of terrestrial rare animal species.
In Russia, hunting drove the Amur Tiger to the brink of extinction in the 1940s, when fewer than 40 individuals were believed still to exist in the wild. 
But thanks to strong conservation measures by the Russian Government, by the 1980s the Amur Tiger population had increased to around 500 individuals and today remains stable at around 450-500 animals. In 2010, the Russian Government adopted the Strategy for Tiger Conservation. 
"Russia's Tiger conservation efforts over the past decade are second to none, and strengthening protective legislation is another welcome move in affording these animals the full protection they deserve," said Roland Melisch, a Senior Programme Director with TRAFFIC.
The review of legislation by TRAFFIC and WWF was funded by the US Fish and Wildlife Service.
In Russian: 
Благодаря новому исследованию российские законы будут лучше охранять редких животных
Москва, 5 декабря 2012
Обзор российского законодательства в области охраны редких видов, опубликованный Программой TRAFFIC Всемирного фонда дикой природы (WWF), поможет исправить нестыковки, из-за которых браконьеры и контрабандисты избегали наказания или отделывались легкими штрафами.
 
Исследование «Это не мой тигр!» объясняет, почему сейчас браконьеры, пойманные с убитым тигром, умудряются доказывать в суде, что «случайно нашли зверя в лесу».
Недавно один нарушитель был задержан с частями шести, а другой – восьми тигров,  в соответствии с действующим законодательством им грозит только небольшой штраф. 
Из десятков выявленных случаев уничтожения тигра браконьерами за последние три года в России, только в нескольких случаях браконьерами были вынесены  обвинительные приговоры. Последний из них – в середине ноября 2012 года, когда браконьер получил 1 года и 2 месяца исправительных работ, а также обязательство возместить государству экологический ущерб в 575 125 рублей. 
На проведенном по инициативе WWF в октябре 2012 года совещании у главы Администрации Президента РФ Сергея Иванова, , было принято решение в кратчайшие сроки кардинально изменить ситуацию. Смысл вносимых в Уголовный кодекс изменений в том,  чтобы уголовным преступлением считалось не только непосредственно убийство редкого животного , но и «незаконные приобретение, передача, сбыт, хранение, содержание, транспортировка, переработка и использование  диких животных и растений,  а также их частей и изготовленной из них продукции». 
Предлагаемые изменения предполагают намного более строгое наказание взамен существующего, и в случае их принятия, нарушителям будет грозить тюрьма и серьезные штрафы, что должно будет отвратить многих от браконьерства. 
«ТРАФФИК искренне надеется, что законодательные «дыры» в ближайшее время будут закрыты, а нестыковки между законами исправлены, что станет значимым шагом в деле охраны тигров и других редких животных», - говорит Алексей Вайсман, главный координатор проектов Российского представительства программы TRAFFIC.
Министерство природных ресурсов и экологии РФ в настоящий момент готовит проект изменений в законодательство в сотрудничестве с WWF и ТРАФФИК, сотрудники которых являются официальными участниками рабочих групп, включая Рабочую группу Комитета по природным ресурсам и экологии Госдумы. Эта рабочая группа вносит предложения по улучшению законодательства в области охоты и сохранения редких животных. 
Бесконтрольная охота привела амурского тигра на грань вымирания в 1940-х годах, когда в дикой природе осталось всего несколько десятков особей. 
Но благодаря активной природоохранной работе государства, к 1980-м годам популяция амурского тигра выросла до около 500 особей, и сегодня стабильно держится на уровне 450 -500 животных. В 2010 году российское правительство приняло Стратегию по сохранению тигра.
«Усилия России по спасению тигра за последнее десятилетие беспрецедентны, и усиление законодательства по его охране – еще один правильный шаг, который даст тигру тот уровень защиты, который ему необходим», - говорит Роланд Мелиш, старший директор TRAFFIC в Африке и Европе.
---