Thai airport authorities seize hundreds of animals in two separate seizures
Bangkok, Thailand, 4th December 2012—Authorities in Thailand have rescued 343 tortoises and freshwater turtles believed to be destined for markets in Hong Kong and arrested two men who were delivering the consignment for shipping. In a separate incident, snakes, scorpions and even centipedes were found in the luggage of a passenger due to fly to Doha. 
---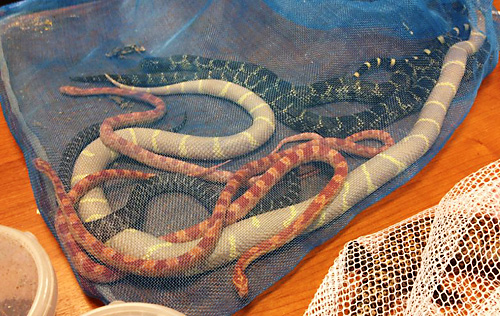 Acting on information, officers from the Department of National Parks, Wildlife and Plant Conservation (DNP), Royal Thai Customs and the Fisheries Department seized 343 turtles and tortoises packed into bags and stuffed into polystyrene boxes for transport early this morning.
The haul found at the Cargo Complex of Suvarnabhumi International Airport included the Endangered Asian Brown Tortoise Manouria emys and the Giant Asian Pond Turtle Heosemys grandis, which is listed as Vulnerable. These turtles and tortoises are traded throughout the region, largely for use as food and medicine. International trade in both is restricted through their listing in Appendix II of the Convention on International Trade in Endangered Species of Wild Fauna and Flora (CITES).
The turtles and tortoises have been sent to a Government rescue centre in Suphan Buri.
The men arrested in this case are expected to face multiple charges under the Wild Animal Reservation and Protection Act (WARPA), the Customs Act B. E 2469 and the Animal Epidemic Act B. E 2499.
Tortoises and freshwater turtles are among the world's most threatened groups of animals and are commonly encountered in seizures. The Turtle Conservation Coalition has estimated that tortoises and freshwater turtles native to Asia made up 68 per cent of such species in the top 25 most threatened worldwide. 
Based on published reports and information from the DNP, TRAFFIC estimates that at least 5,821 tortoises and freshwater turtles have been confiscated from smugglers in Thailand between 2003 and 2011. Earlier this year, an Indian national was arrested at the Suvarnabhumi Airport with 890 Indian Star Tortoises in his suitcase. 
In a separate case, authorities at Suvarnabhumi Airport's passenger terminal arrested a Kuwaiti national who was carrying a collection of over 75 animals in his luggage.
The suspect, who was due to take a flight from Bangkok to Doha yesterday, was stopped and found to be carrying 40 scorpions, 27 snakes, two centipedes, two Tokay Geckos, three African Pygmy Hedgehogs and several other animals.
The man was discovered after the Suvarnabhumi Airport Authority X-rayed his luggage and alerted CITES officers from the DNP and Customs officers, who checked the luggage and found the animals inside. 
The suspect has since been released on bail, but is expected to be charged later under the Wild Animal Reservation and Protection Act (WARPA) and the Customs Act B. E 2469.
---