Recent spate of seizures highlights threat to Critically Endangered turtle
Petaling Jaya, Malaysia, 2nd February 2015—A recent spate of poaching and smuggling of Palawan Forest Turtles is causing serious conservation concern and driving this Critically Endangered species found only on the Philippine island of Palawan ever closer towards extinction.
---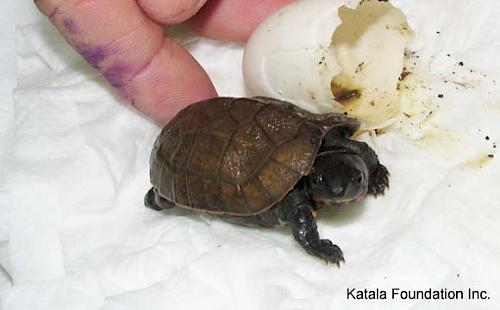 The Palawan Forest Turtle faces a range of threats, including habitat loss, and an apparently growing demand in the international pet trade owing to its rarity. 
In the past two months, there have been 186 endemic Palawan Forest Turtle Siebenrockiella leytensis seized by authorities in the Philippines.  
On 16th December 2014, 27 were seized during a raid in Manila.  Days later, on 22nd December, 35 more were seized in Taytay.  On 10th January 2015, 78 were seized, also in Taytay, and 18 more were confiscated in Taytay on 21st January.  Most recently, 28 more were seized on 30th January in Taytay.  In each case, Palawan Forest Turtles were seized along with other less threatened species of turtles, except for the most recent, where they were the sole species involved.
The Katala Foundation Inc. (KFI) works closely with the Philippine CITES Authorities and the Palawan Council for Sustainable Development (PCSD) to conserve the Palawan Forest Turtle, through research, habitat restoration and protection, local awareness raising activities and through the care and repatriation of confiscated specimens. 
Dr Sabine Schoppe, KFI founding member and Director of the Philippine Freshwater Turtle Conservation Program that has the Palawan Forest Turtle as its focal species, estimates there to be as few as 3,000 Palawan Forest Turtles remaining.  
"Ever since the Palawan Forest Turtle was rediscovered in 2004, the race for its survival really began. Before it was mainly collected for local consumption but now it ranks alongside the Blue-naped Parrot, Palawan Hill Myna and Palawan Pangolin as the most heavily traded species on the island", says Schoppe. 
"Over-exploitation, driven by the national and international pet trade and trade for consumption in East Asia, as well as habitat destruction, is leading to the extinction of the Palawan Forest Turtle." 
TRAFFIC has been monitoring the trade in tortoises and freshwater turtles in Southeast Asia for more than a decade and has found that the trade in highly threatened species has not been reduced, despite  wildlife trade, and trade in tortoises and freshwater turtles in particular, receiving much higher profile and recognition as a serious crime, globally.
"While commercial trade is increasingly being recognized as a major threat to a wide range of species, too few actions are being taken at the ground level to reduce levels of poaching and illegal trade," said Dr Chris R. Shepherd, Regional Director of TRAFFIC in Southeast Asia.  
"The trade in tortoises and freshwater turtles for pets, meat and for use in traditional medicines is having disastrous effects—we are going to lose a lot of species very soon if efforts to save these species are not greatly increased." 
Illegal and unsustainable harvesting for commercial trade is a primary threat to vertebrate species in Southeast Asia, caused by an explosion in urban demand. While this is an urgent threat to many of the region's Critically Endangered species it is often not recognized or addressed.
The Palawan Forest Turtle is one of more than 150 species of terrestrial vertebrates from Southeast Asia assessed as being Critically Endangered by the IUCN's Red List. Approximately 40 are found in the Philippines, the second highest number in Southeast Asia, after Indonesia.
Given that many Southeast Asian species will become extinct in the near future if current trends continue, the "Asian Species Action Partnership" (ASAP) was launched in 2012 to reduce the extinction risk of Critically Endangered non-marine vertebrates in Southeast Asia. TRAFFIC is one of 14 ASAP partners. 
"Recognizing the gravity of the problem and taking urgent steps to stem the trade in and demand for Critically Endangered species is a high priority for species conservation in Southeast Asia," said Madhu Rao, Development Coordinator for the ASAP partnership.
---