Traditional medicine practitioners in Viet Nam pledge to protect threatened wildlife
Ha Noi, Viet Nam, 30th January 2015 – Leading traditional medicine (TM) practitioners in Viet Nam have signed a pledge committing them to refrain from any engagement in illegal wildlife trade or in consumption of threatened wildlife species, including as ingredients in traditional medicine.
---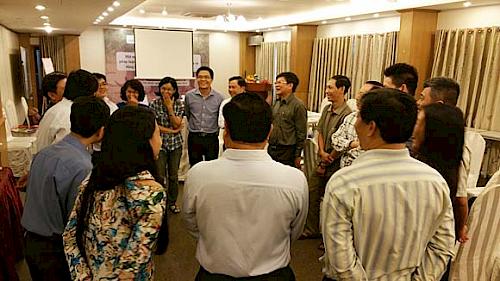 The move is part of a new drive to protect threatened species led by the Traditional Medicine Administration (TMA) of the Ministry of Health (MoH) in Viet Nam, in collaboration with TRAFFIC. 
"Traditional medicine practitioners have relied on the moral values and knowledge of traditional medicine for thousands of years to protect our health. They continue this tradition today as they commit to do their part to care for the world's wildlife by refraining from the illegal use of endangered species in their practice," said Doctor Nguyen Hoang Son, Deputy Director of the Traditional Medicine Administration. 
The pledge was drawn up following meetings with influential TM practitioners held from 21-22 January in Ho Chi Minh City and from 29-30 January in Ha Tinh Province. 
The TM practitioners were trained by MOH communications experts on how to become ambassadors for wildlife protection, spreading messages about the illegality of using rhino horn. They will share messaging developed in October last year at a TMA-TRAFFIC workshop using communications materials designed and supplied by TMA and TRAFFIC. 
"After learning that 1,215 rhinos were poached last year in South Africa alone, I feel strongly that traditional medicine practitioners have a responsibility not to use endangered species products, especially rhino horn, in their practice because it is unsustainable and illegal," said Mr Nguyen Duc Thu from Traditional Medicine Hospital of Dong Nai Province. 
Meetings with the traditional medicine sector have taken place under the five year Memorandum of Understanding between MOH and TRAFFIC signed in 2014 to promote MOH's commitment to wildlife protection and environmental responsibility. 
"It is critical that traditional medicine practitioners are equipped with accurate and up-to-date information about laws concerning the use of threatened wildlife species in traditional medicine so they can make informed decisions in their practice," said Ms Madelon Willemsen, Head of TRAFFIC's Viet Nam office. 
"Through these workshops, practitioners are showing their dedication to traditional medicine values and to the Vietnamese people by enacting their role in the protection of the world's threatened wildlife."
The Traditional Medicine Administration is the specialized body of the MoH that advises the Minister of Health on implementing laws regarding traditional medicine, directing and monitoring expert work, and monitoring relevant professions in the sector. 
TRAFFIC is a non-governmental organization working globally on trade in wild animals and plants in the context of both biodiversity conservation and sustainable development. TRAFFIC's office in Viet Nam is in Ha Noi. 
---