Benefits from wild medicinal plants, wildlife trade in Lao PDR, Saiga horn in Malaysia, Sri Lankan reptiles, ivory in Nigeria—all in the latest TRAFFIC Bulletin
Cambridge, UK, 3rd May 2019—a diverse array of current wildlife trade-related topics is covered in the latest TRAFFIC Bulletin, published online today. They range from the tangible benefits afforded through sustainable trade in wild medicinal plants in Viet Nam through to the latest insights into Nigeria's illicit ivory markets. And all this information is freely available! 
---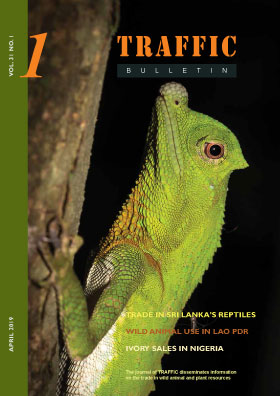 Gayle Burgess, TRAFFIC's Behavioural Change Co-ordinator, introduces the latest edition with a thought-provoking editorial examining the increasing role of behavioural science in conservation. 
Alongside the latest news concerning the Asian songbird crisis and the development of SADC-TWIX—a Trade in Wildlife Information eXchange system for the Southern African Development Community (SADC), in-depth studies cover the following:
Key outcomes from the recent Conference of the Parties to the Convention on Biological Diversity (CBD CoP14) and the associated second Wildlife Forum of the Collaborative Partnership on Sustainable Wildlife Management (CPW).
An analysis of the protected reptile species from Sri Lanka appearing in international commercial trade—including a number of species proposed for listing at the now delayed 18th Conference of the Parties to the Convention on International Trade in Endangered Species of Wild Fauna and Flora (CITES CoP18). 
The outcomes of a UK Government-supported project to promote legal and sustainable wild plant harvesting in Bac Kan province in Viet Nam—and the associated benefits that brings to local communities. 
In-depth, from the field insights into the illegal wildlife trade in Lao People's Democratic Republic (PDR), which reveals the phenomenon of "hunting down the body size"—essentially smaller animals increasingly being targetted because of the loss of larger ones. 
A snapshot survey of the illegal ivory market in Lagos, Nigeria, which found more than 13,750 ivory items for sale, almost all in Lekki market. The majority of them were items such as necklaces, bracelets, pendants, earrings and rings.
Finally, a rapid assessment of Saiga Antelope horn in Peninsular Malaysia found an active trade in the product, an unclear proportion of which occurs in accordance with existing regulations. 
Now in its 31st volume, the TRAFFIC Bulletin remains the only journal dedicated exclusively to international wildlife trade issues and associated conservation concerns.
We work hard to keep the Bulletin open source and available free of charge as the issues we cover are among some of the most pressing conservation topics of our time. You can support our work to keep the Bulletin free and help us get it into the hands of those able to bring about lasting change for wildlife. Visit our support page to make a contribution.
---