Raja and Jackie: The new champions fighting wildlife crime
New Delhi, India, 28th October 2010—Jackie, one of the newly qualified dogs under TRAFFIC India and WWF-India's sniffer dog training programme, along with her handlers Mr Padam Singh Rajput and Mr Shivram, helped apprehend two poachers in Hoshangabad district of Madhya Pradesh this Tuesday.
---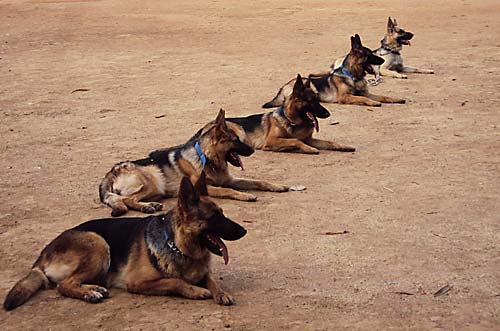 Also recovered from the two poachers were several traps for catching wild animals and six live Grey Francolins Francolinus pondicerianus. 
Last month, Raja, another of the trained dogs posted at Bhrampuri Wildlife Division, Maharashtra, helped bust a Leopard Panthera pardus poaching case that led to the arrest of seven involved. 
Villagers in Buldhana district had killed a Leopard and hidden its body parts. Raja, along with handlers Mr Ansari and Mr Andraskar helped find the hidden Leopard parts and also find the accused. 
Jackie and Raja are two of the five specially trained German Shepherds dogs to sniff out illegal wildlife products that joined the ranks of the Forest Departments of Madhya Pradesh, Maharashtra and Jharkhand in July this year. 
The dogs have been trained to detect items such as Tiger bone and skin, Leopard bone and skin and bear bile. 
The dogs and their 10 handlers completed a rigorous nine month training programme at the Dog Training Centre, 23rd Battalion of Special Armed Forces, Madhya Pradesh Police, Bhopal. TRAFFIC India and WWF-India funded and facilitated the procurement of the dogs and their training.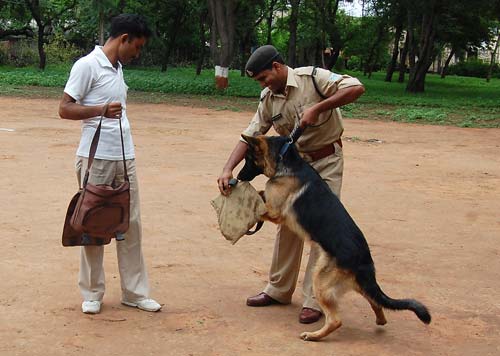 Mr Samir Sinha, Head of TRAFFIC India said, "We are very excited to see these dogs in action and their role in helping curb illegal wildlife trade."
"TRAFFIC has helped establish sniffer dog programmes to detect smuggled wildlife parts in several countries including in the Russian Far East and Europe. But this is the first time it is being done in India. 
"We are very grateful to the Forest Departments who have put faith in the programme and are using these dogs to strengthen field level enforcement."
Mr Ravi Singh, Secretary General and CEO of WWF-India added, "We see the sniffer dogs as game changers in the fight against illegal wildlife crime, if they are used judiciously and to their full potential. I am sure this is the beginning of many more such successful operations" 
---
Notes:
Illegal wildlife trade has caused large-scale damage to India's wildlife to the point where the survival of some species is threatened.  The most commonly known products in illegal wildlife trade in India are: Mongoose hair, snakeskin, Rhino horn, Tiger and Leopard claws, bones, skins, whiskers, Elephant tusks, deer antlers, turtle shells, musk pods, bear bile, medicinal plants, timber and caged birds such as parakeets, mynas and munias.
---