A ray of light from the land of the rising sun
TRAFFIC welcomes new protocol on access and benefit-sharing (ABS)
Nagoya, Japan, 30th October, 2010—Right at the close, delegates to the Tenth Conference of Parties to the Convention on Biological Diversity (CBD CoP10) have cleared the three remaining obstacles in the way of a positive conclusion of the world's framework Convention on conservation of biological resources. 
---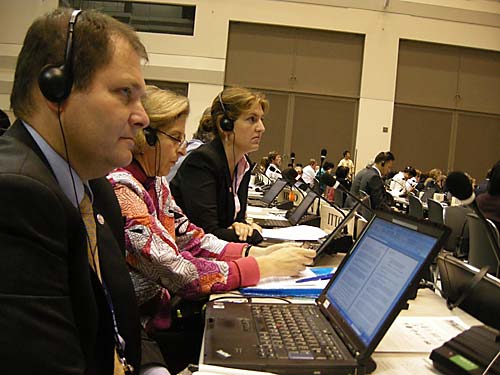 In the early hours of Saturday morning, Parties in Nagoya reached agreement on the "Nagoya Protocol on access to genetic resources and the fair and equitable sharing of benefits arising from their utilization", in short the "Nagoya ABS Protocol." 
Deadlock over the issue of access and benefit sharing has defied resolution for the 18 years since the Convention was signed—until now.
The Nagoya ABS Protocol is a crucial element to ensure that countries harbouring great natural diversity of wildlife will receive adequate benefits in return for providing access to these resources. 
For the first time, the new ABS regime will provide an internationally binding framework, applying for example to private sector enterprises actively bio-prospecting for pharmaceutical, medicinal, biochemical, aromatic and food resources. 
However, the ABS protocol will not apply retrospectively. 
Delegates also agreed a new Strategic Plan post-2010 to halt biodiversity loss, and on a strategy for financial resource mobilization.
TRAFFIC welcomed these positive outcomes: 
"This is an historic day in Nagoya for the world's governments," said Steven Broad, Executive Director of TRAFFIC. 
"The negotiated ABS-protocol is a landmark agreement to help close the gap between biodiversity conservation and poverty alleviation and development." 
The 193 Parties have further agreed on 20 ambitious targets to halt further biodiversity loss. 
"These commitments on paper are ambitious and welcome, but now comes the hard work to ensure they are implemented by 2020," says Broad. 
A challenge still remaining is clarification on funding needs to implement the list of objectives by 2020. Figures mentioned range from USD30 to 300 billion per year. 
By the time of the next conference, to be hosted in India in 2012, Parties will have to determine how many funds have already been spent, how much would still be needed, and particularly where the extra money will come from to halt the further loss of biodiversity. Already Japan has pledged USD2 billion for the conservation and sustainable use of biodiversity within the next three years. 
TRAFFIC has contributed to the negotiations, particularly to the decisions on sustainable use of biodiversity, and to the agreement for a successful new roadmap of the Global Strategy for Plant Conservation (GSPC).
That strategy, extended for another ten years until 2020, will allow for a continuation of the global efforts to halt the continuing loss of wild plants from over-exploitation, including from unsustainable and illegal trade. 
In the first week of CBD CoP 10, TRAFFIC has presented solutions and model projects to Parties on how the detrimental impacts of illegal and unsustainable offtake and harvest of wildlife and the resulting trade herefrom can be significantly mitigated. These examples demonstrated the application of the Fairwild Standard for sustainable use and trade of wild plants, and the Parties' experiences with wildlife trade enforcement networks in Southeast Asia. Moreover, TRAFFIC has also been selected by CBD Parties to contribute to an intersessional process between the Conference of the Parties, where TRAFFIC will contribute, inter alia to compile best practices for sustainable use, including a review of relevant criteria and indicators. Results of this process will have to be reported back to the CBD's Subsidiary Body on Scientific, Technical and Technological Advice (SBSTTA) at a meeting prior to CBD COP 11.
---