Posters and signboard warnings for poachers
Kuala Lumpur, Malaysia, 16th October 2015—Poachers and wildlife traders should consider themselves warned and under watch thanks to new signboards for the public and posters for frontline enforcement officers in northern Peninsular Malaysia.
---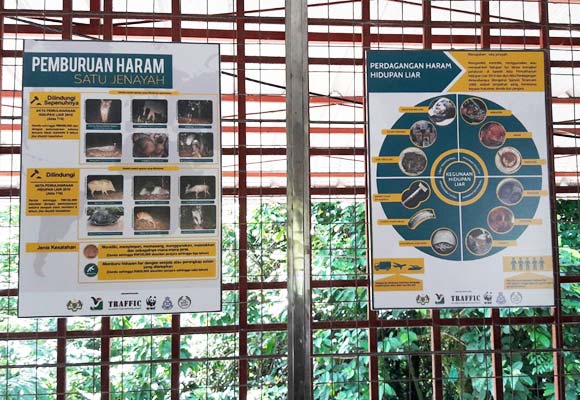 TRAFFIC has designed posters depicting commonly hunted and traded species for Anti-Smuggling Unit posts along the Malaysia-Thailand border, a hotspot for illegal cross border wildlife trade. 
The posters, which serve as a quick reference to illegal hunting and trade offences under the Wildlife Conservation Act 2010 and International Trade in Endangered Species Act 2008 were also distributed to the Unit's offices nationwide.
Featuring photos of live animals as well as their parts and products that are frequently traded, the posters were developed following recommendations from officers who attended a TRAFFIC-led workshop in 2013.
The posters were designed with the support of the Royal Malaysian Police, Wildlife and National Parks Department and WWF-Malaysia. Production and distribution costs were generously funded by WWF-Malaysia and The Body Shop.
The Anti-Smuggling Unit is an agency under Malaysia's Home Ministry and comprises officers from the Police, Customs and Immigration Departments. The Unit aids in the detection and interdiction of all smuggling cases along the 640 km long land border between Peninsular Malaysia and Thailand, including wildlife smuggling. 
Just last week, officers confiscated 63 pangolins from traffickers in Malaysia. Over the years, their notable wildlife seizures include five Tiger skins in northern Peninsular Malaysia in 2012. The Unit has also joined other enforcement agencies and nabbed at least 12 agarwood poachers and seized more than 4 tonnes of the fragrant wood since 2011. Much of the seized agarwood is reported to have been harvested illegally from protected areas in the Belum-Temengor Forest Complex. 
The 300,000 hectare Belum-Temengor Forest Complex is one of the most significant Tiger habitats remaining in Southeast Asia, although the animals are under severe threat from poaching and trafficking. 
To encourage communities in areas surrounding the Complex to participate in fighting wildlife crime, TRAFFIC has put up signboards in the town of Pengkalan Hulu, with more to follow in Gerik. 
The signboards encourage the public not to engage in illegal wildlife trade but instead report it to the authorities via the MYCAT* Wildlife Crime Hotline number. They are part of a collaboration between TRAFFIC and WWF-Malaysia, the local governments of Gerik and Pengkalan Hulu, several enforcement agencies and are funded by Maybank Foundation and WWF-Malaysia. 
---
About MYCAT
MYCAT comprises the Malaysian Nature Society, TRAFFIC, Wildlife Conservation Society-Malaysia Programme and WWF-Malaysia and serves as a joint platform for work to conserve wild Tigers in Malaysia.