German national arrested in Indonesia on suspicion of smuggling Earless Monitor Lizards
Jakarta, Indonesia, October 2015—A German national has been arrested at Soekarno-Hatta International Airport in possession of eight Earless Monitor Lizards concealed on his body as he attempted to smuggle them out of Jakarta, Indonesia.  One of the lizards had already perished. 
---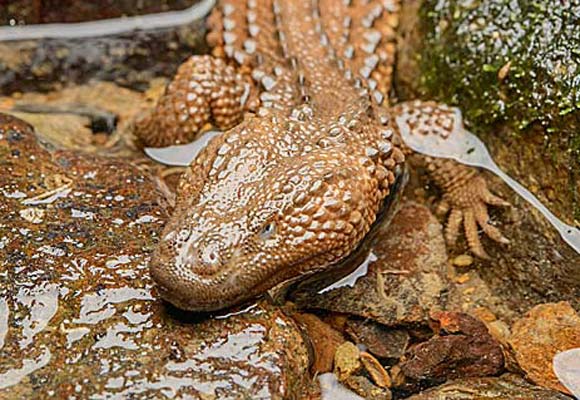 The arrest took place on 11th October, just over a year after TRAFFIC warned of the emerging global trade in Borneo's remarkable subterranean lizard. 
A German connection to the trade in Earless Monitor Lizards Lanthanotus borneensis already exists. In July 2015, a USA-based trader selling the species claimed the animals had been imported from Germany and captive-bred there—presumably to circumvent the US Lacey Act. 
However, none of the range countries has permitted the export of this species, so parent stock in any breeding facilities has not been legally obtained. As this latest case demonstrates, animals are still being sourced from the wild. 
"International investigations are essential to debunk the myth that reptiles are being 'captive bred', whereas in reality claims of captive breeding are frequently used as a cover to enable the animals to be traded internationally, unchallenged," said Sarah Stoner, TRAFFIC's Senior Wildlife Crime Analyst. 
Although protected in all three of its known and potential range States—Brunei Darussalam, Indonesia and Malaysia—once Earless Monitor Lizards have been illegally removed from the wild and smuggled out of their range, no legislation is currently in place to protect them adequately from exploitation on the international market.  
The Malaysian Government is behind moves to secure the listing of Earless Monitor Lizards in Appendix I of the Convention on International Trade in Endangered Species of Wild Fauna and Flora (CITES), which would ban all commercial international trade in the species.  
"TRAFFIC applauds Sarawak State and the Malaysian government for taking the lead with the CITES listing of Earless Monitor Lizards and sincerely hopes that it will gain the support needed by other governments, especially trading partners in the EU to end this illegal trade," said Kanitha Krishnasamy, a Senior Programme Manager with TRAFFIC.
The EU recently included the Earless Monitor Lizard among the Preliminary list of species which may warrant further consideration in preparation for CoP17 (PDF). CoP17 is the next Conference of the Parties to CITES, scheduled to take place in September to October 2016. 
"TRAFFIC urges consumer countries, particularly Germany, to collaborate with the range States to safeguard nationally protected wildlife." 
According to Indonesia's National Police Head Commissioner the animals in the latest case had been purchased in Kalimantan, Borneo for a pittance. In Germany the species has been advertised for sale priced at thousands of Euros.
bahasa indonesia
Warga Negara Jerman Tertangkap di Indonesia atas Dugaan Penyelundupan Biawak Tanpa Telinga
Jakarta, Indonesia, Oktober 2015—Seorang warga negara Jerman telah ditangkap di Bandara Udara Internasional Soekarno Hatta karena membawa 8 ekor biawak tanpa telinga dan berusaha menyelundupkannya keluar Jakarta. Salah satu dari biawak yang dibawanya mati di dalam perjalanan. 
Kejadian ini terjadi pada 11 Oktober 2015, sedikit lebih dari setahun sejak TRAFFIC memperingatkan akan munculnya perdagangan tingkat international pada biawak bawah tanah unik khas Kalimantan ini.
Hubungan negara Jerman dalam perdagangan Biawak tanpa telinga Lanthanotus borneensis sebenarnya telah ada. Pada Juli 2015, salah satu pedagang reptil di Amerika Serikat memberi pengakuan bahwa Lanthanotus borneensis yang dijualnya diimpor dari penangkaran Biawak tanpa telinga yang berada di Jerman – pengakuan bahwa biawak ini berasal dari penangkaran mungkin adalah cara untuk menghindari implikasi dari hukum Lacey. Hukum Lacey adalah hukum Amerika Serikat yang mengatur mengenai perdagangan satwa.
Namun, tidak pernah ada negara daerah persebaran biawak tanpa telinga (Indonesia, Malaysia atau Brunei Darussalam) yang pernah pernah secara legal mengekspor biawak ini, maka stok indukan yang berada di tempat penangkaran manapun tidak mungkin diperoleh secara legal. Kasus terakhir ini menunjukkan bahwa satwa masih diambil dari alam.
"Penelitian tingkat internasional adalah penting untuk mematahkan mitos bahwa satwa yang diperdagangkan adalah hasil penangkaran, pada kenyataannya pengakuan penangkaran seringkali digunakan sebagai kedok agar dapat memperdagangkan satwa langka secara internasional, tanpa ada halangan." Ucap Sarah Stoner Crime Analyst Senior dari TRAFFIC.
Walaupun dilindungi di 3 negara persebarannya -Brunei Darussalam, Indonesia dan Malaysia- ketika biawak tanpa telinga diambil secara illegal dari alam dan diselundupkan ke negara di luar wilayah persebarannya, tidak ada hukum ketat yang mengatur eksploitasi biawak ini di pasar internasional.
Pemerintah Malaysia berada di belakang gerakan memasukkan Biawak Tanpa Telinga ke dalam Appendiks I di konvensi perdagangan internasional tumbuhan dan satwa liar spesies terancam (Convention on International Trade in Endangered Species of Wild Fauna and Flora - CITES). Hal ini akan melarang segala bentuk perdagangan komersil internasional spesies biawak tanpa telinga.
 "TRAFFIC salut kepada pemerintah propinsi Sarawak dan kepada pemerintah Malaysia yang mengambil langkah untuk memasukkan biawak tanpa telinga ke dalam daftar CITES, dan berharap bahwa tindakan ini akan mendapatkan dukungan dari negara lainnya, terutama negara-negara Eropa, untuk mengakhiri perdagangan illegal ini." Kata Kanitha Krishnasamy, Programme Manager Senior di TRAFFIC.
TRAFFIC mendorong negara-negara konsumen rantai perdagangan satwa internasional, khususnya Jerman, untuk mengambil langkah kolaborasi dengan negara-negara asal satwa, demi pelestarian satwa khas yang dilindungi.
Menurut Komisaris Besar POLRI, di dalam kasus kali ini, specimen biawak yang dibawa ini dibeli di Kalimantan dengan harga yang sangat murah. Di Jerman, biawak ini dikomersilkan dengan harga yang mencapai ribuan euro.
---