Orangutan, gibbons and other animals seized at Soekarno-Hatta International Airport
Jakarta, Indonesia, 17th June 2014–In the span of four days, authorities at Soekarno-Hatta International Airport have intercepted two significant shipments of endangered Indonesian species, including a sedated young orangutan.
---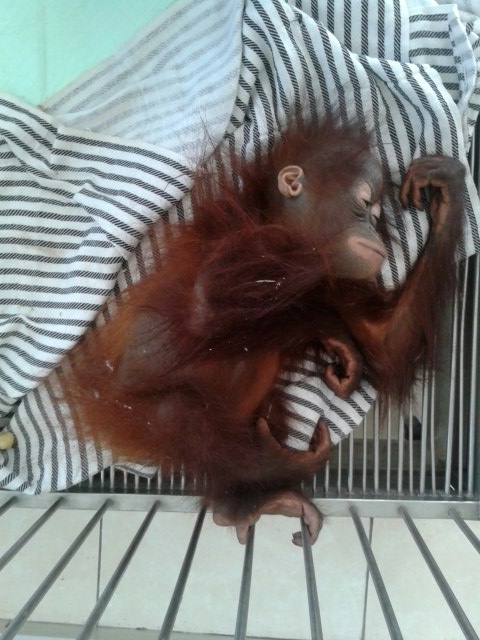 On 5th June 2014 at Soekarno-Hatta International Airport officials intercepted the baby orangutan, three Javan Gibbons Hylobates moloch, four Siamangs Symphalangus syndactylus, a slow loris, 97 Burmese Pythons Python bivittatus, and two Palm Cockatoos Probosciger aterrimus in two suitcases. The sedated animals were discovered when the bags were X-rayed. 
Orangutans, gibbons and slow lorises continue to be smuggled for the pet trade despite being protected by Indonesian legislation. International trade of these species is prohibited through their listing in Appendix I of CITES. Palm Cockatoos are also listed in Appendix I of CITES. 
A Kuwait and a Chinese national were arrested and are currently under investigation. The animals were reportedly travelling to Kuwait. 
In a separate incident at the same airport, on 9th June 2014, officials at Soekarno-Hatta International Airport seized a shipment containing native Indonesian birds including eight New Guinea Babblers Pomatostomus isidorei, seven sicklebills and nine other birds-of-paradise. 
All birds-of-paradise species, including sicklebills, are listed in Appendix II of the Convention on International Trade in Endangered Species of Wild Fauna and Flora (CITES), which restricts international trade. 
The shipment was intended for Paris, France, with the animals believed to be destined for the exotic pet trade. A German national has been arrested and is under investigation. 
Of the total of 144 animals found in the two seizures, at least 13 had died, news reports said. The surviving animals are currently recuperating at the airport's quarantine station, following which the Ministry of Forestry will return them to their natural habitats.  
"These seizures illustrate the ongoing demand for Indonesia's highly threatened wildlife for exotic pets.  We applaud the authorities at Soekarno-Hatta International Airport for their success in apprehending the suspects," said Dr Chris R. Shepherd, TRAFFIC Regional Director–Southeast Asia. 
"Convicting the suspects will be the next important step towards breaking down organized crime networks in the wildlife smuggling world."
---