China's business community leads the way in stopping the gifting of threatened species products
Beijing, China, 26th June 2014—Over 30 top level business executives from Beijing joined TRAFFIC for the launch of a new guide that addresses the practice of corporate gifting using wildlife products in China and recommends actions that the private sector  can take to reduce this demand.
---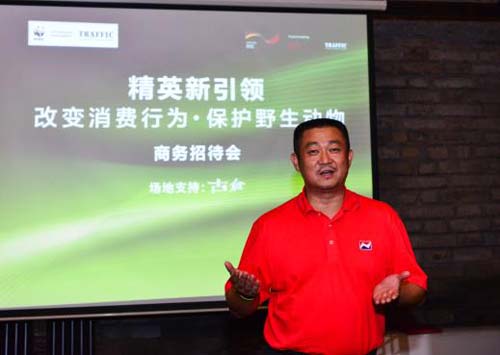 Carrying the tagline "Good for business, great for wildlife worldwide", the guide takes a user through the brief history of gifting wildlife products to its impacts, current awareness and changing attitudes towards such gifts, the Chinese government's commitment to stopping illegal wildlife trade and steps companies can put in place to stop such gifting and make a difference. 
The guide was launched at Gu Cang, a 600-year-old barn converted into a trendy business lounge, and was well received by the business leaders, owners, marketing and public relations companies, designers and educators that attended.
Several expressed support for the approach and a willingness to change their own practices or set new trends in gifting for others to follow.
"The environment and wildlife are very important to us, but we didn't treat them well in the past. We can address this serious issue together in this ancient place tonight because it was well protected. The same thing should happen to the wildlife too," said Ni Dayong, co-host and Executive Director of Gu Cang. 
"As a businessman, I would like to make a commitment not to consume wildlife products and call for all within my circles to cherish wildlife," added the famous investor.
TRAFFIC's effort also received support from China's e-commerce powerhouse Alibaba.
"Alibaba considers corporate social responsibility very important. We have pursued the fight against illegal wildlife trade ever since we were established through our work with organizations like TRAFFIC and WWF. We have seen the good outputs and would like to continue our engagement in the future," said Mr Ni Liang, Senior Director in Alibaba's Security Department.
"For close to two years, working closely with TRAFFIC, Alibaba's Security Department has established a suite of control measures to counteract illegal online wildlife trade with transactions in protected species of wild animals and plants prohibited.
"Meanwhile, across a variety of platforms, Alibaba has issued a variety of messages aiming to influence both consumer behaviour and raise awareness among our staff about the potential conservation impacts of trade in wild plant and mammal species. 
"We will call on our peers in other e-commerce companies, our users and colleagues to reduce demand for illegal wildlife products. We will set an example. Be a good model," Ni added.
Meanwhile Mr James Compton, the Senior Programme Director of TRAFFIC in Asia detailed the organisation's work over the past 30 years and cited this engagement with China's business community as an innovative way to address the issue. He also cited Alibaba's support in fighting illegal wildlife trade online as a good example of business leadership in addressing the problem.
The guide and engagement with the business community are among efforts being undertaken by TRAFFIC and WWF calling for governments around the world to strengthen legislation and enforcement against illegal wildlife trade, and for consumers to play their part in reducing demand for illegal wildlife products.
At the event, Gayle Burgess, TRAFFIC's Consumer Behavioural Change Co-ordinator introduced the guide and outlined some of the steps businesses might take to reduce the gifting of endangered wildlife products.
---