New study finds fewer online advertisements for Tiger parts
Cambridge, UK, 28th April 2014 - Chinese-language online advertisements for Tiger part ornaments and Tiger-based medicines appear to be in decline, according to a new report published today in TRAFFIC's flagship journal, TRAFFIC Bulletin. 
---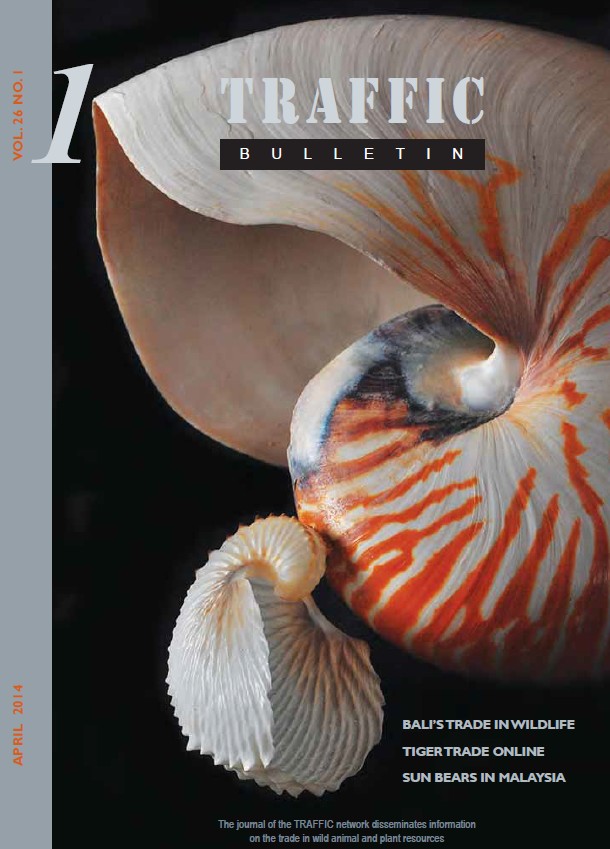 Although Tiger items are still being advertised online, there were signs that the number of times such advertisements are appearing is in decline.  This appears to be a response to greater awareness of the illegality of such sales as well as the growing number of internet retail companies who have pledged a zero tolerance policy towards such illegal trade and routinely remove such advertising.
By contrast, other articles in the latest TRAFFIC Bulletin show a significant and open trade in protected and globally threatened wildlife species.  On the island of Bali, Indonesia, trade ranges from sawfish and dugongs, to slow lorises and babirusa—and in volumes that warrant investigation.  Illegal trade in gall bladders of the Malaysian Sun Bear is also continuing at high levels in Sarawak, where protection levels and penalties for crimes involving this species remain lower than in any other region in Malaysia. 
A range of projects benefiting both conservation and communities are profiled in this issue. In the Yasuní Biosphere Reserve, a region in the Ecuadorian Amazon with one of the highest levels of biodiversity in the world, hunting pressure on animals to supply wild meat for onward sale has led to a rapid depletion of the area's wildlife.
To address this, a project designed to identify alternative sources of income for local communities has resulted in development of some exciting and innovative initiatives—from the growing and selling of cacao for the production of high-quality chocolate to the establishment of nurseries to grow a valuable native timber species.   These and other initiatives are now providing income for the Waorani community in the region that replaces and exceeds that which had been earned from the sale of wild meat, alleviating pressure on the reserve's wildlife resources.
A project in the North-Western Ghats of India, another global biodiversity hotspot, is helping to address the problem of deforestation in the region while encouraging the sustainable collection of medicinal plant species.  These projects provide concrete examples of how a combination of interested stakeholder groups, good practices and economic incentives, can both conserve the environment and sustain livelihoods.
To read more about these and many other wildlife-trade related issues, download the latest issue of the TRAFFIC Bulletin.
Thanks to the generous support of our donors, including many readers, the TRAFFIC Bulletin is distributed free of charge both in hard copy and electronically to government wildlife and enforcement agencies, conservation organizations and individuals interested in wildlife trade issues. If not already a supporter, please consider contributing towards the costs of publication and distribution of future issues
---