New campaign against wildlife trafficking in Viet Nam
Ha Noi, Viet Nam, 28th April, 2010—Local and international conservation groups, the government of Viet Nam and the regional ASEAN Wildlife Enforcement Network (ASEAN-WEN) have launched an outdoor media campaign to raise awareness of wildlife trafficking, a crime that is threatening the unique biodiversity of Viet Nam and other South-East Asian countries and pushing many species towards extinction. 
---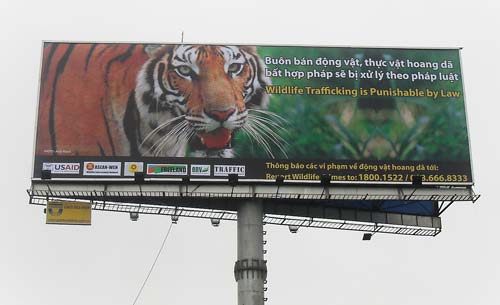 They have erected a large Vietnamese and English-language billboard on the road to the Noi Bai International Airport in Ha Noi to remind residents and visitors that "Wildlife Trafficking is Punishable by Law."  The billboard also provides telephone hotlines for reporting wildlife crime.  The sign features a photograph of a Tiger, an Endangered species often illegally traded throughout the region despite its population in the wild dwindling to around 3,200 animals worldwide.
"The illegal and unsustainable trade in wildlife is threatening many wild species of animals and plants, not just in Viet Nam but also the wider region," said Dr Ha Cong Tuan, Deputy Director General of Viet Nam's Directorate of Forestry.  
"Anyone caught trading protected endangered wildlife will be punished under national law."
Modelled on similar ASEAN-WEN public awareness campaigns in Vientiane, Laos, and Bangkok, Thailand, the Viet Nam campaign is a joint initiative of  ASEAN-WEN, Viet Nam's Forest Protection Department, TRAFFIC, Education for Nature-Viet Nam (ENV) and FREELAND, and is supported by the U.S. Government through the U.S. Agency for International Development (USAID). 
In addition to reaching hundreds of thousands of travelers, previous campaigns have increased the vigilance of authorities tasked with detecting and stopping wildlife trafficking. 
---